---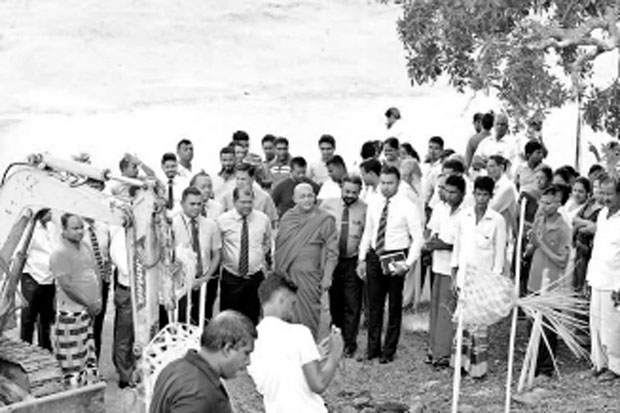 Sampath Bank embarked on the restoration of the Ambagaswewa in Kahatagasdigiliya under its "Wewata Jeewayak" programme recently.

Several officers of the Govi Samithiya, the Department of Agrarian Development and other government bodies attended the ceremonial inauguration of the project on 20 July together with officers and customers of Sampath Bank and members of the Kahatagasdigiliya community.
The bank has been rebuilding such dilapidated irrigation tanks in the nation's dry zones under this initiative. Improving the capacity of these tanks, Sampath Bank seeks to provide farmers in the area with a continuous supply of water for their paddy fields, enabling them to cultivate during both the 'maha' and 'yala' seasons. This would allow them to cultivate inter-crops that would serve as a source of secondary income, thereby uplifting their quality of life. It will also have a significant positive impact on the environment at large, especially on the animals and birds dependent on these tanks.
Commenting on this initiative, Sampath Bank Human Resources Head Lalith Weragoda said "At Sampath Bank, we firmly believe that our farmers are the life blood of the nation and are committed to serving them. We noticed that several farming communities in the country's dry zones were unable to cultivate all through the year due to the shortage of water for irrigation. Given that they depend largely on local tanks, we launched the Wewata Jeewayak initiative to rebuild these tanks and restore year round water supply to their fields. We look forward to working with the people of Kahatagasdigiliya on rebuilding the Ambagaswewa."

Spread across 28 acres, the Ambagaswewa has a capacity of 90 acre-feet and is the primary source of irrigation for about 40 acres of paddy field belonging to the 30 families involved in farming in Kahatagasdigiliya. The tank has become shallow due to the accumulation of sludge resulting from the lack of proper maintenance. Its retention capacity has fallen drastically due to damages in its bund and sluice and spill gates leading to wastage of water. The resulting water scarcity has restricted farmers in the area to cultivating in only one season per year.

During the next six months, Sampath Bank will work closely with local authorities and members of the Kahatagasdigiliya community to repair the Ambagaswewa's bund and its sluice and spill gates. They will also be renovating the bathing area used by the villagers.