---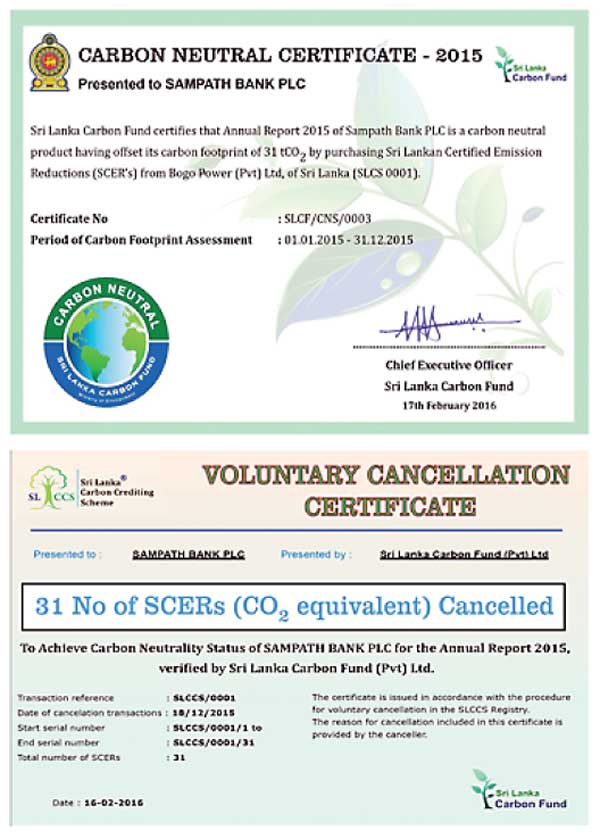 As a strong environmentally-conscious institution, Sampath Bank has always been at the forefront of ensuring the values of corporate sustainability by showcasing their commitment towards the betterment of the environment and establishing themselves as an entity that believes in the importance of being sustainably driven. Thus, Sampath Bank's Annual Report 2015 was created as a complete Carbon Neutral product.

Accommodating a product standard that follows the GHG (Green House Gas) Protocol, Product Life Cycle of Accounting and Reporting, Sampath Bank PLC's Annual Report 2015 quantifies the carbon output generated through the process cycle.

The process cycle whilst publishing Sampath Bank's Annual Report 2015 consists of gathering comprehensive data to map its carbon footprint. The total amount of Green House Gas (GHG) emissions accumulated at each stage of the product lifecycle of the Annual Report 2015 is measured in CO2 equivalent. It includes Scope 1 (direct) and Scope 2 (indirect) emissions and the end result is expressed in Kilograms of CO2 equivalents.

The Sri Lanka Carbon Fund (Pvt) Ltd has verified the carbon footprint of the product (Annual Report 2015) as per PAS 2050:2008 standard.
Remarking on this sustainable initiative, Tharaka Ranwala, Pillar Head of CSR and Senior Deputy General Manager – Consumer Banking, Sampath Bank PLC said, "At Sampath Bank, we believe in ensuring our values that achieve environmental sustainability incorporated with our day to day operations. Thereby, we communicate the importance of safeguarding the environment, encouraging our stakeholders and our customers to be environmentally conscious citizens. Therefore, the Carbon Neutral Annual Report 2015 is a testament of our commitment towards the solutions we make to omit wastage and reduce emissions that could harm the environment".

Sampath Bank as a principle invested in this green initiative by purchasing carbon credits equivalent to being measured in tons of CO2 in the product life cycle. These carbon credits were purchased from Bogo Hydro Power project, which was validated and verified by the Sri Lanka Carbon Fund (Pvt) Ltd under Sri Lanka Carbon Crediting Scheme (SLCCS). Thereafter, the Bank obtained a declaration certificate issued by the Sri Lankan Carbon Fund (Pvt) Ltd., declaring the 'Sampath Bank, Annual Report 2015, a Carbon Neutral Product'.
Chief Executive Officer (CEO), the Sri Lanka Carbon Fund (Pvt) Ltd, Buddika Hemashantha said, "It is really encouraging to see the motivation of the private sector and their commitment to protect our mother earth through such timely needed green efforts. Our aim is to support all institutions to reduce their carbon footprint and then drive the nation towards a low carbon blue-green economy. These initiatives are imperative to creating a sustainable future, not only for the next generation but also for us."

Similarly, Sampath Bank will extend their commitment towards a greener and safer environment by educating the masses on the social norms that are relevant to the communities Sampath Bank operates in. With an Environment Policy and Six Eco Guidelines that have been formulated to fulfil diversified roles in their operational framework, this ground-breaking project is yet another justification of Sampath Bank's promise to a responsible choice for the betterment of the people, the nation and the earth.