---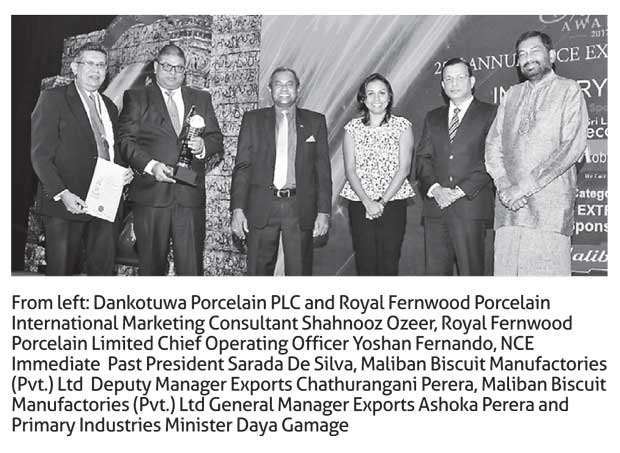 Royal Fernwood Porcelain Limited, a manufacturer of coloured porcelain that enjoys a global reputation in the porcelain tableware industry as a reliable supplier to many premium brands, was the recipient of the Silver award in the large-scale industrial sector for ceramics and porcelain products, at NCE Export Awards 2017.

Incorporated in 1994 and commercial production commenced in 1997, exactly 20 years post the company's first successful export to the United Kingdom, Royal Fernwood Porcelain continues to manufacture products for most of the prestigious ceramic dinnerware manufacturers in Europe, Japan, Australia, Scandinavia and the USA.

The company's prestigious international customer base includes brand names such as Debenhams, Portmerion, Oneida, House of Fraser, John Lewis, Jashanmal, Jumbo Retail, Joules, Crate & Barrel, Country Road, Laduree, Tchibo, Notneutral, XXX Lutz, Lenox, Porsgrund, Fischer, Ritzenhoff, Migross, Ripley, Thun, Narumi, El Corte Ingles, Berghoff, Yalco, Weissesstal and GaleriaKaufhof.
In addition, several upmarket department stores in many countries in the world are customers of Royal Fernwood, resulting in the company covering over 40 countries around the globe, conforming to the international quality standard of the Royal Fernwood Porcelain products.

Celebrating 25 years in recognising and rewarding the excellence of Sri Lankan Exporters, the National Chamber of Exporters of Sri Lanka (NCE) has achieved national significance over the years due to the high standards and professionalism it maintains across all its projects. This year's awards saw the most number of applicants vying for these prestigious awards. In addition to ascertaining the winners based on general export criteria, areas such as contemporary requirements to compete in the global arena, government economic and export policies, innovation, differentiation, branding, value addition and long-term sustainability were also considered.
While Prime Minister Ranil Wickramasinghe was the chief guest at the award ceremony, Primary Industries Minister Daya Gamage, Provincial Councils and Local Government Minister Faizser Musthapha, Policy Planning and Economic Development Deputy Minister Dr. Harsha de Silva were present as special guests.

Royal Fernwood Porcelain, reputed for its coloured and youthful designs, enjoys the heightened value addition through a wide range of extremely popular designs and decorations that include in-glaze, on-glaze, under-glaze, hand painted, etching and microwave-safe designs including gold and platinum.
Catering to customer demand, Royal Fernwood has been successful in developing new products using coloured glazes to match the body, which is a unique achievement for porcelain tableware.
Body shapes are another competitive aspect that Royal Fernwood Porcelain has excelled in, to retain and attract customers across the globe that have diverse artistic taste in porcelain products. Currently the company offers 12 main body shapes namely, Oxford, Princeton, Sofia, Helsinki, Coupe, Margia, Sunil, Colorado, Margo, Romantica, Dima and Maria.

Commenting on the achievement, Royal Fernwood Porcelain Chief Operating Officer Yoshan Fernando stated, "It is with great pride that we acknowledge this accolade. We have always been an organisation that has earned respect and credibility amongst our international customers for the simple reason of maintaining international standards at everything we do. While ensuring continuous improvement in our operations, we take our responsibility towards our stakeholders both locally and internationally very seriously. This has been our secret on sustainability even during adverse business conditions."