---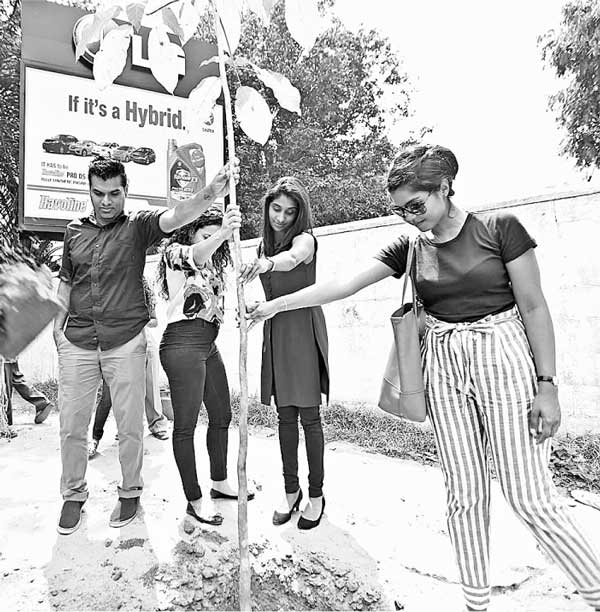 Otara Gunewardene (left) and some of her colleagues from the Otara Foundation at the launch of the tree planting programme
The Otara Foundation is partnering with the Colombo Municipal Council to increase the tree cover within the city of Colombo with a project to plant 184 trees such as Ehela, Moodilla, Karanda, Kohomba, Takomaria and Kaha-Mara, most of which are native to Sri Lanka.

The project kicked off on Tuesday 30th August with the planting of 20 Tabeuia rosea trees along Cambridge Place Colombo 7.

Among the other streets identified by the CMC to be lined with these trees are Thurstan Road, R. A. De Mel Mawatha (Duplication Road) and Galle Road.

The Otara Foundation said it will bear the cost of the trees and the protective guards around them and will also be donating branded tabards to the 25 CMC workers who will be responsible for the maintenance of the trees.

"Colombo was once much greener than it is today, and had many picturesque tree-lined roads that were cherished by the city's residents and visitors," said Otara Gunewardene, founder and Director of the Otara Foundation. "I believe we can make Colombo and indeed Sri Lanka green again. If we each make a firm resolve to guard our trees and forests as well as get involved and plant a few trees even in our own homes or neighbourhoods, we would be doing a great service to Sri Lanka and our future generations. It is important to remember that humans as well as animals need trees for survival, so it is in our best interest to safeguard them and plant more of them. It is heart-breaking to see the rapid destruction that is happening to beautiful Sri Lanka. It is time to protect our precious environment before it is too late."

Close to 80 per cent of Sri Lanka was under forest cover in the 1900s, but by 2010 this figure had dwindled to below 20 per cent. Sri Lanka's deforestation rate is now one of the highest in the world with over 1 per cent being lost each year.

Besides helping keep our cities cool, absorbing air pollution and providing shelter and shade, trees produce the oxygen we breathe, help create life-giving rain, reduce erosion, guard against landslides, prevent flooding during heavy rains, produce food for humans as well as animals and are our best weapon against global warming and climate change.