---
Thailand-based ONYX Hospitality Group recently made a contribution towards the WASH initiative of UNICEF Sri Lanka, to support vulnerable children affected from floods and landslides, due to the intense wet weather situation experienced in the country.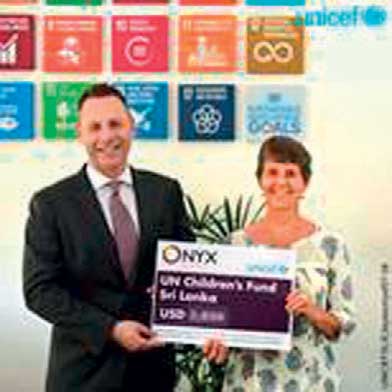 About 21,484 people were displaced as a result of the disaster and some are still living in camps and temporary shelters, including schools.

The donation was made under UNICEF's relief and recovery work with the National Water Supply and Drainage Board, providing access to safe water, sanitation and hygiene to the children affected by the flood.

At a meeting with Una McCauley, UNICEF's country representative, Simon Dell, AGM and VP of ONYX Hospitality Group in Sri Lanka, expressed his concern for those who have been affected through the situation in Sri Lanka and the commitment of ONYX Hospitality Group towards the well-being of children. Dell said, "At ONYX Hospitality Group, we align our values and business practices with a sense of connection to the environment and giving back to the communities. We are privileged to make a contribution towards this good course, as it benefits the community and
especially children".

This donation is part of a combined effort from OZO hotels in Sri Lanka, and was facilitated by ONYX Hospitality Group, to provide long-term emergency support to the affected communities.