---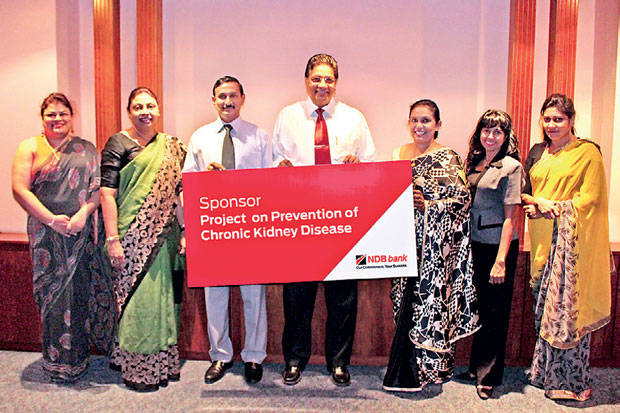 NDB Corporate Sustainability Committee hands over the sponsorship cheque to Renal Disease Prevention and Research Unit National Coordinator and Coordinator to Health Minister on CKDu Dr. Asanga Ransinghe and Health, Nutrition and Indigenous Medicine Development Ministry Additional Secretary Janaka Sri Chandraguptha
As a responsible corporate citizen, NDB strives to make meaningful contributions to society through its strategic sustainability initiatives that aim to inspire the sustainable growth of a progressive Sri Lanka.
Sustainability is a strategic priority at NDB and the bank continuously endeavours to foster it across all its business decisions and activities. The bank therefore has extended its support to make a meaningful change to society at large by sponsoring the mobile screening project for chronic kidney disease (CKD) initiated by the Health Nutrition and Indigenous Medicine Ministry. The Renal Disease Prevention and Research Unit of the Health Nutrition and Indigenous Medicine Ministry has identified that early detection will prevent the end stage disease requiring dialysis and kidney transplant. The community is hesitant to visit hospitals or clinics for testing due to reasons such as distance, transport, financial difficulties and wrong consumption. Therefore, the ministry has initiated a community project that involves the deploying of mobile laboratories, which would visit remote villages for screening.
CKD is a widespread disease caused by a wide range of precipitating factors. According to available health statistics, there are approximately 43,000 diagnosed CKD patients and approximately 1,000 deaths annually.
Chronic kidney disease of uncertain etiology (CKDu) was first detected in mid-1990s from the Anuradhapura District in the North Central Province.
NDB considers national economic growth imperative, hence pivotal areas of economic growth such as health, education and entrepreneurship are extended with equal level
of support.