---
Continuing its laudable Corporate Social Responsibility (CSR) initiative for the greater good and welfare of society, N. M. K. Charity Foundation spearheaded by the Chairman of NMK Group of Companies, Manjula Narayana, made a cash donation towards the construction of the proposed new auditorium of Ave Maria Convent at Bolawalana recently. In a groundbreaking achievement, Ave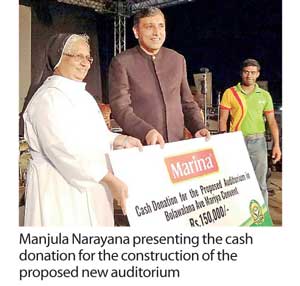 Maria Convent secured the second place at the finale of the prestigious Marina 'Star Chef Hunt' competition, Sri Lanka's first-ever and only realty chefs contest conducted by Marina Food (Private) Limited, in collaboration with Swarnavahini Television and the Ministry
of Education. Under the guidance of Manjula Narayana, the N. M. K. Charity Foundation, came forward to extend a helping hand to give an impetus to Ave Maria Convent and partner in efforts to further develop the talents and capabilities of its students by providing financial support to build an auditorium, a long-felt need of this key educational facility for girls.
Expressing his views on this newest financial gesture, Narayana said that NMK Group has, through its CSR initiative, helped a multitude of diverse, deserving community service projects over the past 35 years. It was with the core objective of expediting the process of providing such assistance to worthy causes that the N. M. K. Charity Foundation was established, he stressed. "I consider it an honor and privilege to be given an opportunity to extend financial assistance towards the construction of the new auditorium of Ave Maria Convent", the Chairman said. "We introduced the Marina 'Star Chef Hunt' competition to offer a window of opportunity to students doing home science in schools island-wide to develop their inborn culinary talents, and give them access to national recognition by identifying, appreciating and rewarding their capabilities and aptitude in cookery", Narayana recalled. "I was elated by the clever performance of Ave Maria Convent students at this competition. It was their remarkable achievement in winning the second place in this contest that prompted me to make this financial commitment to the school. The next round of the Marina 'Star Chef Hunt' competition will be launched very soon", the Chairman noted.
The CSR projects towards charity undertaken by Narayana so far encompass financial assistance for the construction of 'Hadasuwa Medura', a hospital for specialized medical care for cardiac patients at Kurunegala, donation of artificial limbs and wheelchairs to disabled persons in different parts of the country, providing spectacles free of charge to deserving people with poor eye sight, rehabilitation of irrigation canals and reservoirs, helping families who were affected by the tsunami and floods and awarding scholarships to deserving students who had qualified for university entrance.