---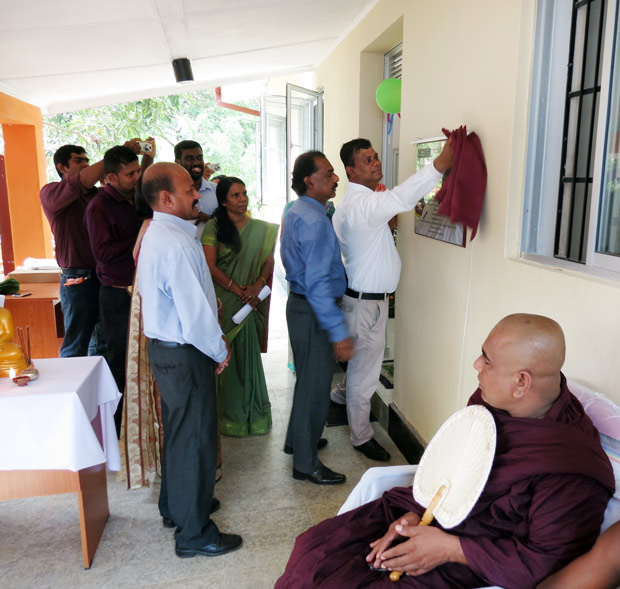 The renovated Agriculture Training Centre and Agriculture Instructor's Office located in Pemaduwa, Mahawilachchiya in the Anuradhapura district was inaugurated recently by Agriculture Extension and Training Director S.A. Arunappriya.
The facility was renovated with funding from the European Union (EU) under the Support to District Development Programme (EU-SDDP), which is implemented by the Food and Agriculture Organisation of the United Nations (FAO).
The Agriculture Training Centre, which operates under the purview of the Agriculture Department, was established nearly 20 year ago. However, the centre had remained closed for many years due to the war. Therefore, the training programmes for the farmer community in Mahawilchchiya were conducted mainly in village community halls.
In September last year, FAO facilitated the renovation of the Agriculture Training Centre and Agriculture Instructor's Office. The centre, which has now been refurbished and equipped with technological facilities, will benefit approximately 3000 farmer families.
Arunappriya stated that furnishing the training centre with agricultural equipment and technological facilities will ensure the provision of quality trainings for farmers who are striving to rebuild their livelihoods in a post-war backdrop.
"The renovated Agriculture Training Centre will be a conduit for expertise and knowledge sharing in Mahawilachchiya, where livelihoods depend primarily on agriculture," said Arunappriya.
The Agriculture Training Centre in Mahawilachchiya aims to provide technical and practical trainings to farmers and farmer organisations on crop production, use of agricultural inputs and implements and use of new technology. It will also focus on providing agri products and local food production trainings for female farmers.
The trainings, which will be provided to farmers free of charge, are to be conducted by resource personnel from the Agriculture Department and affiliated state institutions.
"The FAO's strong relations with the Agriculture Department have reached another important juncture through our partnership in implementing the European Union Support to District Development Programme," said FAO SDDP Project Manager Rohini Singarayer.
"Our aim is to reduce poverty through agricultural development and one way of doing it is by improving resources and technical equipment to revitalize research and agricultural extension services. Thereby ensuring continuous training facilities for the farmers to improve their productivity and increase their level of production and income."
Speaking about the inauguration, EU Delegation to Sri Lanka Head of Cooperation Libuse Soukupova said, "Integrated rural development and the modernization of agriculture is one of EU's top priorities for Sri Lanka.
We are pleased to be able to contribute to improving the conditions of farmers, a group that plays an important role in the development of the country."
Jointly implemented by five agencies of the United Nations, the EU-SDDP with a total financial envelope of EUR 60 million, aims at supporting the Government of Sri Lanka's thrust for ecoanomic and social development in seven conflict-affected districts covering half a million people.