---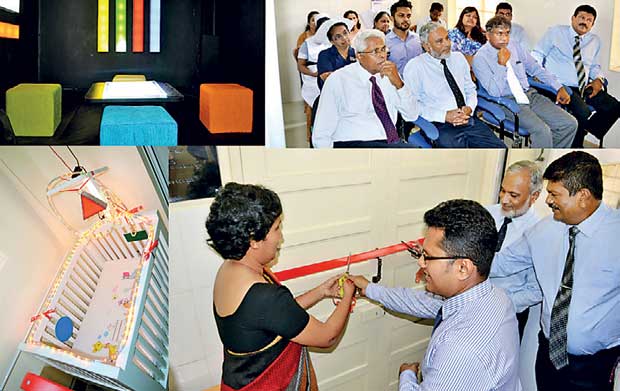 Leema Creations (Pvt) Ltd, the award winning interior design company has once again come forward to fulfill an essential need of visually handicapped children.
A separate unit was installed at Lady Ridgeway Hospital in Colombo to diagnose and to treat visual impairment caused by the brain, not being able to process information from the eyes passing along visual pathways in the brain. This unit consists of a dark room, together with all essential equipment and facilities.
This is the first and only such unit installed in Sri Lanka for the benefit of children suffering from cerebral visual impairment. Dr. A.L.M Nazzir, Deputy Director and Dr. Piyara Ratnayake, Consultant Pediatrics Neurologist who were present on the occasion of the opening of this unit, made a presentation on the use of 'dark room concept' in visual rehabilitation of children. She further elaborated on how to diagnose the extent to which the impairment has occurred and plan treatment accordingly.
In addition to all essential equipment and facilities, the unit is complete with a play therapy area and a store room, thus creating a complete health centre for this specific treatment
The construction of this entire unit equipped with all essential facilities was done by Leema Creations (Pvt) Ltd and the unit was officially handed over to the Lady Ridgeway Children's Hospital, Colombo on 23rd March. The entire project was co-ordinated byManesha Weerasuriya, CEO, Leema.
This is yet another community service initiated by Leema. Speaking on this occasion, Managing Director. Channa Wijesekara thanked the authorities of the hospital for the opportunity provided and indicated his desire to provide assistancein any further endeavors, as a part of his company's community services.
To commemorate the opening of this unit, a plaque was unveiled in the presence of Dr Piyara Ratnayake, Dr. Irugal Bandara(Consultant Ophthalmologist), Dr P.Wijesekara (Medical officer, Neurology unit) and the staff members of Neurology and Occupational and Speech Therapy units. Dr. A.L.M Nazzir, Deputy Director and Dr. Piyara Ratnayake thanked the Leema Creations or their invaluable contribution made to uplift the standards of
children's health.