---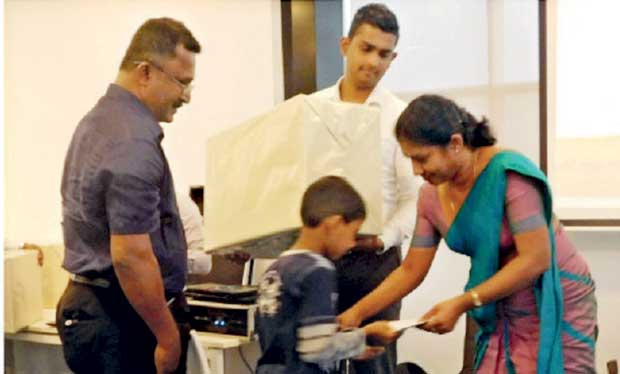 Laugfs Holdings recently carried out their annual book gifting campaign for the 12th consecutive year by distributing school supplies to children of over 200 of its staff members.
The event was organized by the Laugfs Welfare Society, which has been driving this annual programme since 2005.The project was initiated with the intention of facilitating and supporting staff members to encourage early literacy and further education for their children.
"This annual programme reinforces our commitment to support education in Sri Lanka, by especially focusing on the children of our staff members. As a company with a strong family culture, we believe in looking after each other and continuously creating a strong bond with our colleagues and their families. With this initiative, we hope to support some of our colleagues to meet the basic educational needs of their children and to help them broaden their knowledge and secure a better future," commented Laugfs Holdings Group Managing Director, Thilak De Silva.
This year's campaign benefited over 200 families, who gathered at the Laugfs Head Office to celebrate the occasion.
Exciting gift packs of school supplies were handed over to the children to commence the new school year. Those who excelled in the grade 5 scholarship examination and students who gained university entrance in 2016 were also recognized for their achievements during the event. The occasion was graced by Laugfs Group Managing Director, Thilak De Silva, and other senior management. Stage performances by some of the children were also held showcasing their talents to the delight of the audience. A special segment was further conducted in honour of deceased employees of the company and their families. Laugfs Welfare Society has been assisting these families and providing them with financial support from the inception of this initiative.
The funding for the project was provided with personal contributions by Laugfs Chairman, W.K.H. Wegapitiya and the Group Managing Director, Thilak De Silva along with financial assistance offered by several Laugfs subsidiaries.
Laugfs is one of the largest diversified business conglomerates and a trusted name in Sri Lanka. Founded in 1995, Laugfs today has expanded across 20 industries in Sri Lanka and overseas, establishing a strong presence as a leader and pioneer in the power and energy, retail, industrial, services, leisure, logistics and real estate sectors.