---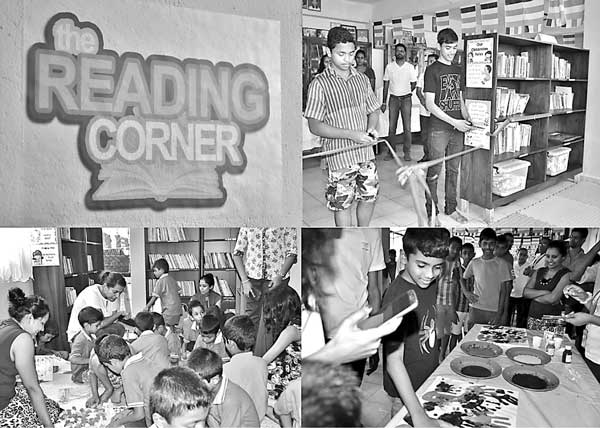 Working to create a better future every day for Sri Lanka's children and youth is a cause Just In Time staff is very passionate about. The Just in Time group has already launched its corporate internship programme to further this initiative and recently launched its corporate social responsibility (CSR) programme 'Today a Reader – Tomorrow a Leader' to inculcate the habit of reading in children across the island, thereby playing its part in shaping the future leaders well-rounded.

The CSR initiative is to create mini libraries and reading spaces for children that are conducive and encourage in children the wonderful habit of reading. Having identified the need that most rural schools and orphanages do not have the resources to make this habit an enjoyable one for children, Just In Time set out on its CSR objective.

Studies have proven that reading for pleasure makes a big difference in a child's life early on. Evidence suggests that children who read for enjoyment not only perform better in school than those who don't, but also develop a broader vocabulary, increased general knowledge, wider imagination and a better understanding of the world around them and acceptance of other cultures and people.
The Just In Time group's goal is to create reading corners in orphanages and rural schools for children who are lacking this much-needed knowledge development resource. Reading even for just a few minutes a day has a myriad of benefits and helps shape a child's personality.
By building mini libraries all across the country, be it at schools or orphanages, can greatly enhance the habit of reading in children and awareness of the world around them to make them better informed, well-rounded adults. Encouraging reading in children is one of the most important things we can do to prepare our future generation to face life as a balanced human being and the foundation towards better academic and non-academic growth.

The launch project was held at the Sri Jinananda Children's Development Centre in Wellawatte. Begun in 1986, as an initiative of Rev. Urumuththe Sugathananda Thera, this is a home for boys between the ages of four and 18, who have been accommodated from across Sri Lanka. Each child has a story of his or her own, with many of them coming from broken and underprivileged homes.
This home is a well-organised and spacious location catering to the needs of the children. Looking at the educational empowerment - one basic aspect was lacking, which was age-appropriate books for the children and an engaging and attractive space for the children to read.

The Just In Time group and its staff contributed in creating this mini library and reading space for these children and it was received with much enthusiasm and excitement by the children and the staff of the home.

The Just In Time group is a wholly Sri Lankan company, which has been a key partner and implementer of several cutting-edge mission critical ICT solutions in the country over the last two decades.