---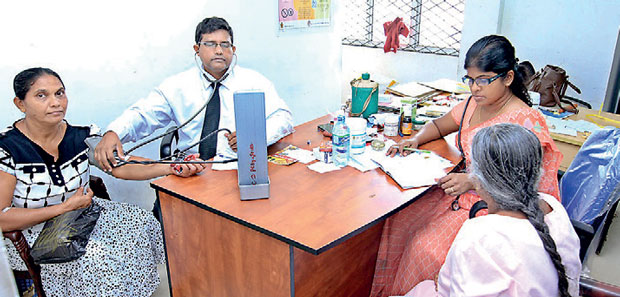 The Indian CEO Forum (ICF) successfully completed yet another health check camp with the active support of Ultratech Cement and JV Gokal at the Madyama Sayanaya in Peliyagoda recently, which was inaugurated with the lighting of the oil lamp and a religious ceremony.
Speaking on the occasion, Kiran Redkar, President - ICF reiterated the commitment of ICF to regularly contribute to the well being of people at large. He stressed upon the need for awareness to be created towards diabetics, cholesterol and blood pressure related diseases. "We have many visitors in our camps who were not aware of the fact that they had high cholesterol and sugar which can be fatal to their health", said Redkar .
The Gataberkande Rathanasiri Thero, Chief Priest of Jayathilakaramaya who was also present said "I would like to thank the Indian CEO Forum, Ultra Tech Cement and J.V. Gokal for organising the health camp. We, the people of Peliyagoda are blessed to have these companies in our vicinity. May the Noble Triple Gem bless these companies".
A large number of corporate heads who form the membership of ICF actively participated in the camp including, Sanjay Tiwari - Immediate Past President ICF & CEO and Managing Director of Piramal Glass Ceylon Plc , S Lakshmanan - CEO of J V Gokal Pvt Ltd , Abhay Atkare - CEO MSN laboratories , Manoj Agarwal - CEO Axis Bank , Vijay Gambhire - CEO of Ceat Kelani Holdings Pvt Ltd , R Giridhar - MD of Geekay Pvt Ltd, were among those present .
ICF thanked , Isara Jayasekara - Secretary Peliyagoda Town Council, Y V Lakmal De Silva, HPI of Peliyagoda Urban Council , Dr Hemantha Samarsinghe from the Peliyagoda Maternity & Child Clinic, Dr Wasantha Rajapaksha , Dr Purnima Gamage , MOH Peliyagoda, Metropolis Lab at Nawaloka Hospital, and the Peliyagoda Police Authorities, who along with ICF, M\s Ultratech Cement and M\s J V Gokal Pvt Limited helped to ensure the successful implementation of the camp.
The objectives of the Indian CEO Forum are to promote and contribute to the economic growth of Sri Lanka through Indian investment, safeguard and strengthen existing economic co-operation, foster new economic ties between India and Sri Lanka, provide an open forum for the business leaders of Indian origin employed with Indian Multinationals and Sri Lankan Business/Commercial organizations in Sri Lanka. ICF also endeavors to showcase investment opportunities in Sri Lanka to potential new investors from India.