---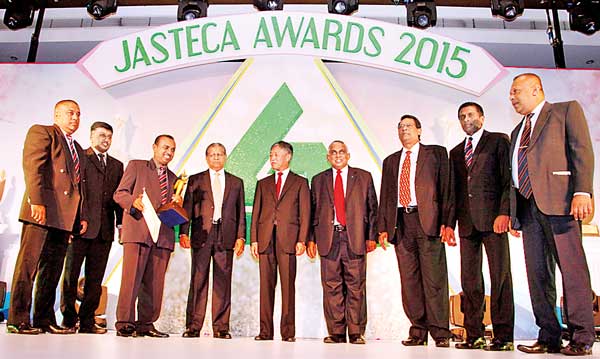 A member of the Hayley's group - Kelani Valley Plantations PLC's (KVPL) internationally recognized corporate social responsibility (CSR) initiative - 'A Home for Every Plantation Worker' - was awarded the JASTECA CSR Gold Award at the recently concluded JASTECA Awards 2015.
KVPL competed against corporate giants of Sri Lanka and was selected as winner of this prestigious award - based on its strategic and long-term impact, which has touched over hundreds and thousands of lives over a span of 10 years.

KVPL initiated the 'A Home for Every Plantation Worker' programme, as part of its core CSR efforts a decade ago in 2006, with the objective of transforming the living standards and overall quality of life of their plantation workers. This endeavour has four key pillars encapsulated which form
the initiative.

These include enhanced living environment, health and nutrition, empowerment of youth and community capacity building. Under these four key pillars the plantation workers are supported, covering diverse areas which affect all facets of life and include maternal care, child development centres and crèches, skills and social development programmes and educational support and guidance up to graduate degrees, awareness building on the damages of alcoholism whilst also supporting the funeral expenses of family members? The deep impact to the lives touched cannot be valued in monetary terms as this comprehensive and focused endeavour supports human development and even shapes the futures of the beneficiaries. For example, through the support and educational guidance many of the workers' offspring are now graduates and are even doctors and engineers.

From every sale of single origin tea from KVPL and Mabroc, a contribution per tea pack is made directly to the A Home for Every Plantation Worker Charity Fund. Roshan Rajadurai, Managing Director KVPL and Talawakelle Tea Estates, emphasized the commitment of KVPL.
"To us the tea plucking community is why we exist as an industry.

This workforce consists mainly of females and we empower them to give their families well-balanced lives and give them the right conditions to thrive and grow. By focusing on their wellbeing we have as a direct result improved the quality of our product. The direct benefits from this initiative have been significant, as they facilitate the sustainable development of the industry as a whole, build stronger relationships with the plantation community and inculcates a very positive attitude amongst employees that has a tremendous impact on all stakeholders,"
Rajadurai stated.

This initiative has already achieved much recognition, such as being lauded by INSEAD, which uses it as a case study; it has been featured in the UNGC Best Practice Booklet Sri Lankan edition and on the Global Compact Network Asia - Pacific webpage. It has also been selected by CSR Asia as a case study for the development of training material and courses for UNGC.