---
Communities across Sri Lanka have been battling bad weather and an unprecedented increase in the spreading of dengue this year.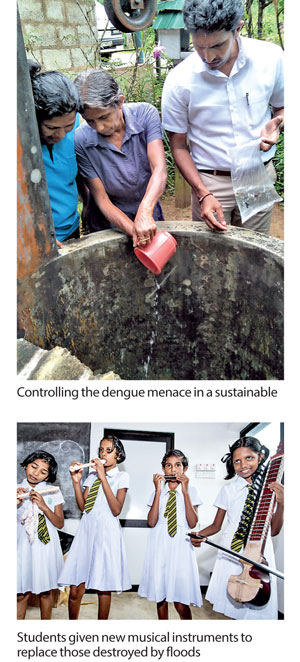 With the objective of supporting local communities and bringing them some relief, HSBC, partnered with the Sarvodaya Movement and the Asia Pacific Alliance for Disaster Management respectively, to help control the dengue epidemic and identify flood/landslide affected schools which are in dire need of assistance.

With HSBC's support, the Sarvodaya Movement has already stated to mobilize their district staff and volunteer groups in order to implement the dengue preventives. These interventions are being ramified in to different measures and approaches. The activities include community awareness drives, cleaning of drainage systems, canals and wells, introducing toxin-free biological controllers like fish varieties that feed on mosquito larvae and plants that repel dengue mosquitos, provision of equipment and manpower to clean dengue breeding grounds and more.

"We need to take necessary action before the outbreak of dengue intensifies once more. It's a grave public health concern and an issue that needs serious measures of control. Whilst supporting the immediate needs bycarrying out preventive measures we also have to look at solutions that work in the long term. As a corporate entity that has been part of this country for the last 125 years, we believe inproviding sustainable solutions to overcome issues faced by communities across the country and transforming their lives for the better," commented Mark Prothero, CEO, HSBC Sri Lanka and Maldives.

HSBC also joined hands with the Asia Pacific Alliance for Disaster Management (A-PAD)to assist school children from areas worst affected by floods and landslides that devastated the country at the start of the southwestern monsoon season. With the support of the Ministry of Education and the Ministry of Disaster Management, seven schools in Ratnapura and Matara districts were identified.
Under the relief project HSBC provided the schools with educational equipment ranging from musical instruments to sporting equipment to library books; and the students were given school kits with their essential school items. The provisions reached over 15,000 direct and indirect beneficiaries.

A token ceremony for the distribution of school equipment and educational essentials were held at the Dehigaspa Dudley Senanayake Vidyalaya in Pitabaddara.