---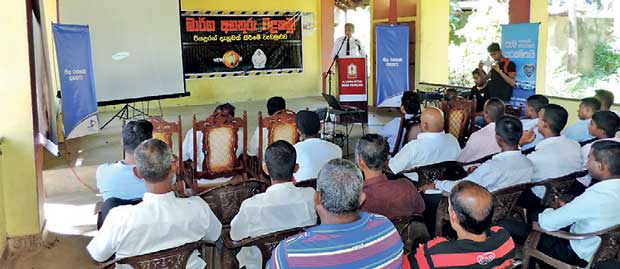 HNB General Insurance Limited (HNBGI), the fully-owned subsidiary of HNB Assurance PLC (HNBA), joined hands to sponsor a series of islandwide workshops organised by News 1st in collaboration with the Sri Lanka Police, with an aim of creating awareness on road safety, roadside accidents and the importance of safe driving practices.
Accordingly, the Embilipitiya workshop was held in Embilipitiya Udagama Maha Vidyalaya recently, with the presence of many delegates connected to various disciplines such as road authority officials, district officials and medical officials.
Sharing the views on this event, HNBA and HNBGI Chief Executive Officer Deepthi Lokuarachchi stated, "We are indeed pleased to be the insurance partner of this series of workshops as it presents us with a great opportunity to engage with the public and to educate them on road safety and the importance of adhering to precautionary road safety measures which could greatly help in reducing the statistics of roadside accidents and deaths caused by careless driving practices."
A series of similar workshops will be conducted islandwide with an aim of creating awareness, educating the public on road safety and on the importance of safe driving practices.
HNBGI, which commenced business in January 2015, specializing in motor and non-motor insurance solutions, is presently one of the fastest growing insurance companies in Sri Lanka, with a network of 55 branches.
HNBA, the parent company specializing in life business, ranked within the Top 100 Brands and Top 100 companies in Sri Lanka by LMD, has won interanational awards for brand excellence, digital marketing and hr excellence and many awards for its annual reports at award ceremonies organised by the Institute of Chartered Accountants of Sri Lanka and South Asian Federation of Accountants (SAFA).