---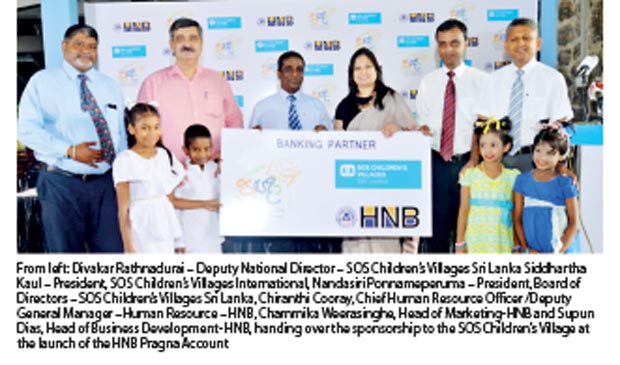 HNB together with SOS Children's Villages, launched the 'Pragna' account, to support and fund the education and schooling needs of over 4500 children, across all of the SOS Children's Villages in Sri Lanka.

A simple ceremony to mark the occasion was held at SOS Village in Piliyandala, graced by SOS Villages' International President Siddhartha Kaul together with officials from HNB's senior management.

HNB, 'Pragna', meaning wisdom, can be accessed across all of HNB's branches island-wide as well as their ATM's. The account will fund and support education of children housed at SOS villages, most of whom are orphans, without parental care and those at the risk of losing parental care, thereby giving the children an opportunity of good education throughout, including undergraduate studies.
Expressing commitment to the cause, HNB's Managing Director, Jonathan Alles said, "We believe every child, whatever background, has the right to good education. By simply depositing as little as Rs.100 into the 'Pragna' account can change the future of a child. By equipping the children with knowledge and education, undoubtedly gives them a head-start on their journey in life and we at HNB are privileged to be playing a role in it".

Commenting on the initiative, SOS Children's Villages International President said, ''Education is a pre-requisite for preparing young people for a secure life. At SOS Children's Villages we strongly believe and advocate, investment in education is the best way to ensure a child's future''
''My vision is to empower young people through education enabling them to have employable skills when they leave our care, giving them confidence to stand on their own two feet and make a meaningful life in their society," he added.

Also commenting on HNB's involvement with SOS Children's Village, HNB Chief Human Resource Officer/ Deputy General Manager - Human Resources, Chiranthi Cooray said, "It is a true honour for HNB to be able to support such a worthy cause. The SOS Children's village has long been involved in Sri Lanka providing life-changing support including family-based, long-term care of children who can no longer grow up with their biological families. These vital initiatives have helped children across the island to experience reliable relationships that enable them to grow up in a stable family environment hence we urge all who are seeking to make a difference to learn more about SOS Children's Village and make whatever donation they can towards this important cause."