---

For the children of the SOS Children's Village, Piliyandala, this year's Children's Day proved to be a day filled with fun and entertainment, ending fittingly with fireworks.
Glitz, the fashion destination, celebrated Children's Day with the children at the SOS Children's Village, Piliyandala and planned a feast of activities to enthral children of all ages.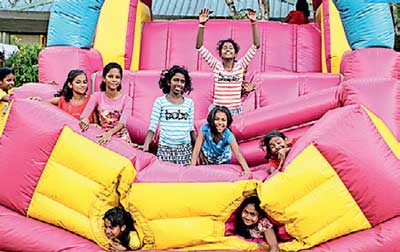 Glitz also renewed an agreement to sponsor two SOS families with 18 children, a sponsorship agreement which has been continuing since 2013. The renewal of the agreement was formally marked at the event with an additional donation of Rs.100,000 to the SOS Village, Piliyandala.
"Glitz has a longstanding partnership with the SOS Children's Village and we were delighted to have the chance to celebrate Children's Day 2016 with the wonderful children of the village. At Glitz, we believe in forging long-term partnerships with our stakeholders and this extends to our CSR activities as well. As a nation, our children are our best hope for the future and it is important to recognize the organisations working to uplift underprivileged children and assist their efforts," commented Glitz Marketing Manager Raneez Sheriff.
"It was rewarding to see our Glitz team interacting and engaging with the children, bringing a smile to their faces and to also see both children and adults alike enjoying the festivities," said Glitz Assistant Marketing Manager Aqaam Wahabdeen.
Glitz staff enthusiastically participated in the day's events, interacting with the children of the village while keeping a careful eye on their safety. The day's events ended on an aptly festive note with a spectacular display of fireworks, especially for
the children.
The SOS Children's Village was established in 1981 in order to provide a secure, loving and stable family setting and environment for the children who may have lost their parents or are unable to live with their biological family.
The celebration of the Children's Day at the SOS Children's Village saw almost 200 children ranging from two to 18 years participating in the proceedings and engaging with Glitz staff.