---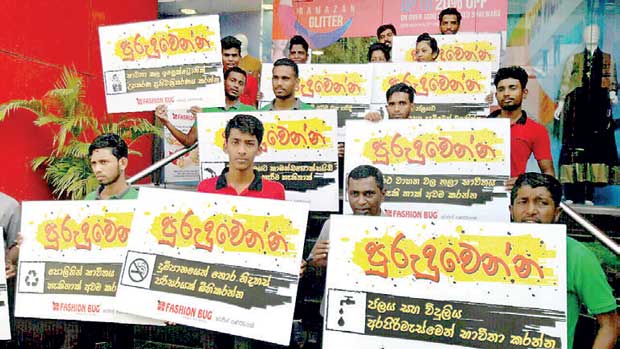 With Sri Lanka witnessing catastrophic consequences of man-made disasters each day, the need to promote awareness on our environment has never been more evident.
The understanding that the actions we take in our daily lives can significantly impact the future of the planet is a timely need, in order to address a host of environmental challenges that can affect our society as a whole.
With a sincere vision of addressing these issues, Fashion Bug, one of Sri Lanka's leading retail clothing chain held an awareness programme 'Puruduwenna' on June 5, coinciding with the World Environment Day, across 17 of its outlets island wide, as a part of the company's continuous Corporate Social Responsibility initiatives.
In an effort to bring attention to the environmental issues affecting our country, the company relied on simple yet powerful messages related to environmental conservation. Messages reading 'plant a tree for future generations', 'use the garbage bin for littering', 'take proactive steps to minimize sound pollution', and were displayed by employees of Fashion Bug at various outlets to engage the public, to better our surroundings.


The ambitious CSR initiative to build awareness on battling environmental challenges is not a new responsibility for the company. Carried out for the third consecutive year, 'Puruduwenna' educates the public in various simple activities that could help preserve the environment at an individual level.
"Being a responsible corporate citizen, it's our belief that change and responsibility starts from an individual. While keeping up with daily challenges, we tend to be less mindful of our actions which threaten the environment we live in. Our vision is to take this message across, as a gentle reminder to our consumers, that our actions warrant more responsibility, to build and preserve a safer and cleaner environment. We believe that our efforts at all 17 branches will carry this message across to all corners of the country and encourage the environmentally conscious consumer as well as the general public," said Shabier Subian, Director- Fashion Bug. "As a responsible corporate entity it is our way of giving back to the community where they can meaningfully engage in building an environmentally conscious country," he added.
Projects such as these are a key focus of Fashion Bug, who spends millions annually on various CSR projects carried out around the island in various sectors – from sports to education, through to health, public services and beyond.
In the recent past 'Puruduwenna' campaigns were conducted at the Kalubowila Teaching Hospial, Homagama Base Hospital as well as at the Bellanwila Recreation Park where boards with the aforesaid messages were set up inside to engage closely with the public and create awareness among them.