---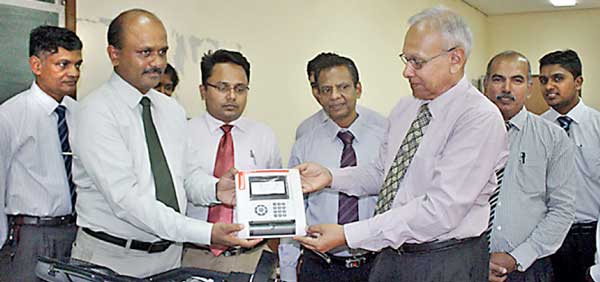 Fibre Cement Product Manufacturers' Association Coordinator Anton Edema handing over the lung function test apparatus to Ruhuna University Medial Faculty Physiology Department Head Dr. Janaka Lenora in the presence of FCPMA and Medial Faculty officials
In a bid to improve the standard of occupational health and safely in Sri Lanka, the Fibre Cement Products Manufacturers' Association (FCPMA) donated a 'spirometer', also known as a lung function testapparatus, to the Medical Faculty at a function held at the Ruhuna University recently.

The spirometer is a device to measure the air capacity of the lungs and is a highly valuable medical diagnostic tool that could identify the causes for many respiratory problems such as chronic obstructive pulmonary disease (COPD), asthma, pulmonary fibrosis and cystic fibrosis. Other tests such as residual volume, gas diffusion tests, body plethysmography, inhalation challenge tests and exercise stress tests also could be carried out by the spirometer.

The event saw representation from members of the FCPMA and many officials of the Ruhuna University, who advised the attendees on the importance of taking corrective measures to improve the lung-related medical diagnosis in Sri Lanka, by enhancing the quality of occupational health and safety of our workforce.

Further, speaking at the event, Ruhuna University Medical Faculty Dean said, "On behalf of the Faculty of Medicine, I extend my gratitude to FCPMA and its member companies for fulfilling a dire need of our Medical Faculty. Spirometry is the first and most commonly done lung function test, which determines how much and how quickly you can move air out of your lungs. The new device functions as a full spirometry-testing unit, which offers airway resistance by occlusion technique, respiratory mechanics and oxygen saturimetry with integrated SpO2 monitor. The 'Pony FX' - spirometer device is equipped with Omnia software for data management, real-time testing and interpretation on PC. This device is the first-of-its-kind to be gifted to our Faculty of Medicine."
The FCPMA, which overlooks and governs the quality and safe production of Chrysotile Roofing Sheets in Sri Lanka, acts as the research and development hub for Rhino Roofing Products Limited, Sri Ramco (Pvt.) Limited, Built Elements (Pvt.) Limited (Elephant Masconite) and Sigiri Roofings (Pvt.) Limited, which are the leading manufacturers of chrysotile roofing sheets in the island. Chrysotile fibre is a natural mineral found on earth formed by a combination of magnesium, silica and water mined only in countries such as Russia and Brazil.

Chrysotile roofing sheets in Sri Lanka are produced with a combination of 92 percent of cement and water along with 8 percent of chrysotile fibre for strength. With the sole responsibility of maintaining a healthy workforce in Sri Lanka, the association requests the public to adhere by safe usage of all chrysotile roofing sheets. The production process of the chrysotile roofing sheets compiles to Sri Lankan quality standards such as 'SLS9' for the public's safe usage, therefore, is considered a non-health hazardous product in Sri Lanka.