---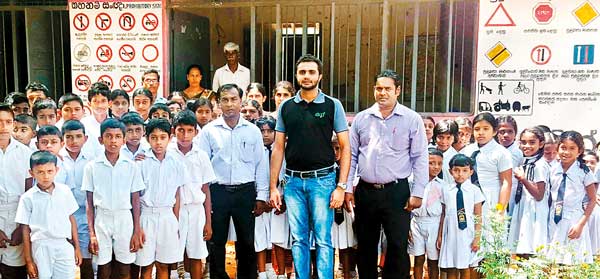 School children from Punchukulama Vidyalaya with their Principal Jayawickrama and Expolanka Holdings PLC Assistant Manager CSR and Activation Sajeeth Illyas
Continuing its efforts to provide clean water to school children in the country's North Central region, Expolanka Holdings provided RO water purification solution to five schools in the region.
Over 3000 children from Punchikulama Viyalaya Thirappane, Anuradhapura, Thalawa Navodya Vidyalaya Thalawa, Karagahawewa Vidyalaya Karagahawewa,Thalawa, Delnegama Vidyalaya Kiralogama, Eppawala and Adappane Sudarshana Maha Viyalaya Adappane, Nochchiyagama benefitted from this endeavour.

Commenting on the initiative, Paddy Weerasekera, Head of Marketing, Corporate Communication and CSR, said, "This is the second time that we've taken the initiative to provide water purification solutions to school children in North Central Province (NCP). Through last year's programme, we provided clean water to over 3000 students from five schools in the area. This initiative is our contribution to restricting the spread of the deadly CKD (Chronic Kidney Disease) that continues to affect the region."

According to a report published by the BioMed Central, "Drinking water is a major pathway for entry of inorganic arsenic into the human body. The arsenic content in 99 percent of water samples was below the WHO reference value of 10 μg/l. However, it has recently been suggested that the concentration of arsenic in drinking water should be no more than 5 μg/."
A World Health Organization (WHO) investigation revealed that 15.3 percent of the people in the North Central region are affected by CKD. The disease was first identified in 1991 in Anuradhapura District and since then thousands of inhabitants of the area had succumbed to
the disease.

Lack of access to clean drinking water is believed to be a contributing factor to the prevalence of CKD in the area.
WHO recommends providing access to safe drinking water along with better health facilities and financial support to affected areas to decrease the risk of CKD.
Commenting further Weerasekera said, "Water is one of the core factors of sustainable development. At Expolanka we value sustainable growth beyond all.

This is one of many small measures we have taken and will continue to take in order to contribute to the sustainable development of
our country."