---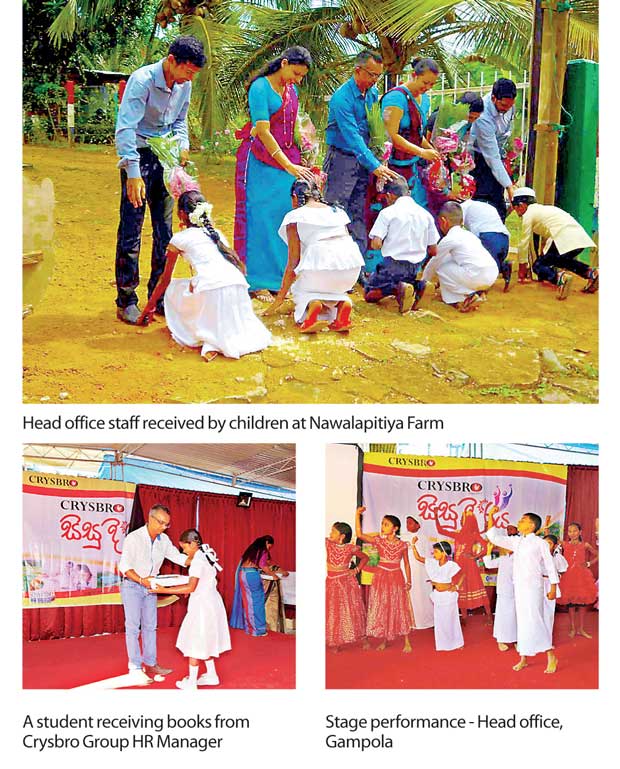 The Crysbro Group recently conducted its employee welfare programme Sisu Diriya CSR for the 5th consecutive year recently.
Under one of Crysbro Group of Company's unique CSR and employee welfare programme, a brainchild concept of Group Founder Mohamed Imtiaz, 663 students (the children of Crysbro Group staff) received the entire set of books required for the new academic year 2017 for the fifth consecutive year.
The Sisu Diriya CSR maneuvered under the guidance and direction of the Crysbro HR team is considered as one of the most intimate and motivating events by the workforce which has won the hearts and minds of all Crysbro Group employees on top of all other welfare initiatives in the calendar year and is held with much grandeur and might by the workforce.
The event is celebrated in a aesthetic manner at all sites with pomp, merriment and revelry putting on show and demonstrating the aesthetic talents of their children in melody, dance, drama, compeering and other curricular activities. This has also contributed in enhancing the high spirit among the employees cementing the blissful organization culture that ushered level of top team work in the organization
The Crysbro HR Team with the passage of time has introduced much needed innovation to the CSR making it a more beneficial and memorable event for its employees introducing new fascinating and valuable features such as providing plants along with books and introducing poetry and art competitions and adding many more educational items each year. Furthermore, more variety was introduced in the CSR in 2016 with a poetry competition for Cryesbroemployees and an art competition for the children of employeesadded and held under the topic "Let's Protect the Environment".
The hidden talents and special abilities of Crysbro employees were recognized and rewarded with expensive gift vouchers at the CSR event. The victorious poems and drawings and other selected poems and arts were also printed in the first page of each book which was very much cherished by the employees.
Crysbro staff students were also presented with Rs. 1000 worth of a gift voucher to purchase whatever they want from DSI along with the pack of books. The Crysbro Employee Welfare Society allocated Rs. 660,000 for the unique CSR initiative which ended in high note with Crysbro staff children who passed the Grade 5 scholarship exam 2016 being gifted with Rs. 10,000 each, also funded by the Crysbro Employee Welfare Society.
The group conducts several unique CSRs and has implement several distinct aspects to CSR, in which each part has been separately recognized to ensure proper focus, maximum coverage, inclusion, accountability and transparency in their execution.
The inimitable CSR 'Diri Saviya' focuses on providing income avenues for contract breeders and contract farmers. Contract breeders, who raise chickens on behalf of Crysbro, are provided with chicks, feed, technological inputs and advice on breeding, in addition to the purchase of fully-grown poultry at guaranteed prices. This CSR has resulted in uplifting the lives of hundreds of contract breeders and their families, in addition to empowering numerous women who have joined it in order to improve their living standards.
Among the other CSR are 'Suwa Shakthi', which is geared towards renovating and painting hospitals and maternity clinics, has been implemented in several hospitals to date. The Company has also renovated and resurfaced roads and lanes in surrounding areas through its CSR programme branded as 'Praja Aruna'.
Crysbro has conducted reward initiatives to accolade and reward its outstanding contract breeders in all regions of its operations. At the award ceremonies conducted in the Central and other regions, winners and their families were granted fully paid Buddhist pilgrimages to India, while others received valuable prizes and mementoes.
Contract farmers in identified areas, who cultivate rice, maize and other grains, are provided seed grain, fertilizer and technical assistance, while being assured of guaranteed prices for their produce. Grain produced by these farmers are used to produce chicken feed at Crysbro's state-of-the-art feed mill plant at Warakapola in the Kurunegala district.
The Crysbro Group, along with its subsidiaries Midland Breeders (Pvt) Ltd, Golden Grains (Pvt) Ltd and Wayamba Development Ltd, have provided direct employment opportunities for over 800 individuals living in most parts of the country.