---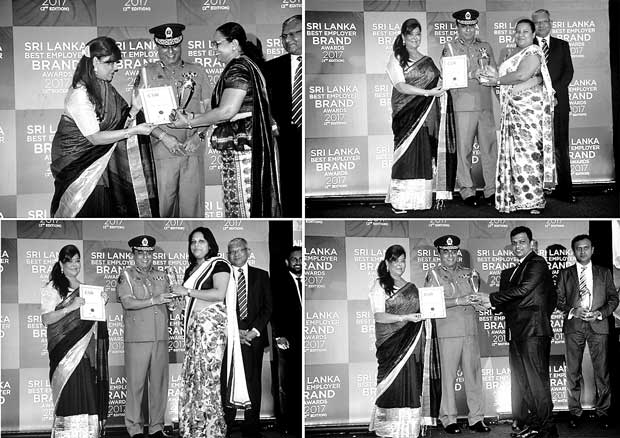 The Commercial Bank of Ceylon won four awards at the Sri Lanka Marketing, HR and CSR Leadership Awards presented in Colombo last week by the CMO Asia Council.
The bank received the awards for best use of CSR practices in banking and finance; developing sustainability strategies; concern for health; and support and improvement in quality of education, all in the sphere of Corporate Social Responsibility.
The CSR Leadership Awards recognise corporate entities and individuals that have made a significant and positive impact on the lives of people around them, through their involvement in corporate social responsibility programmes that respect communities, the environment and people. Commercial Bank received the most number of awards for CSR and sustainability won by a single entity at this ceremony.
The bank said it has been a sustainability champion throughout and has interwoven sustainability to its business practices and has taken the initiative to reduce its carbon footprint through the establishment of green banking channels, comprehensive waste disposal systems, moving in to solar power and reduction of paper use through the digitisation of processes. The bank has also taken steps to develop green buildings for its branches.
Education is the flagship initiative of Commercial Bank's CSR Trust. Over the years the Bank has made an immense contribution towards the Sri Lankan education system by donating over 175 IT laboratories to needy schools, awarding of scholarships to 350 undergraduates, commencing the revolutionary online learning platform "Sipnena' which allows students to learn subjects online, commencing hardware training programmes that focus on employability of school children and most recently by spearheading the Smart School initiative which will completely reform the traditional classroom.
Under healthcare the bank has played a key role in providing infrastructure and critical care equipment to over 50 children's and maternity hospitals owned by the government. The bank said it aims to support the state healthcare system by providing assistance to most needy hospitals and will continue its efforts to secure the health of the future generation through its healthcare initiatives.