---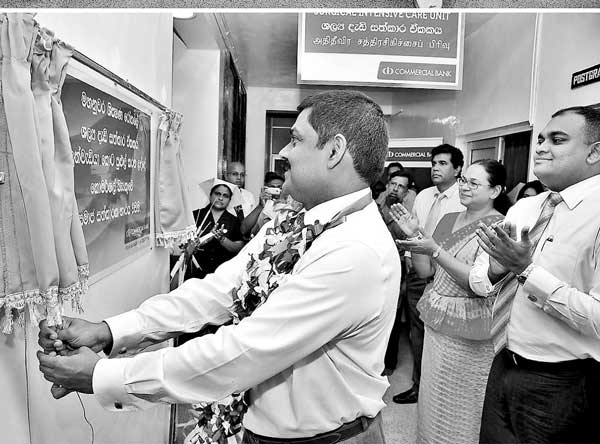 Opening of the unit after refurbishment by Commercial Bank's Chief Operating Officer S. Renganathan
The Commercial Bank of Ceylon recently supported the Kandy Teaching Hospital, the second largest hospital in Sri Lanka, to expand and refurbish its Surgical Intensive Care Unit (SICU), significantly facilitating its operations.

A project undertaken by the CSR Trust of the Commercial Bank encompassedexpansion of the Unit's Isolation Room for high risk patients, renovation of the washing room and construction of a special outdoor area for washing and drying, refurbishment of the Unit's pantry, construction of a separate section for the segregation of waste, expansion the Post-graduate Medical Centre and an improvement of the interior facilities in the ICU.
"A Surgical Intensive Care Unit of a hospital of the size of the Kandy Teaching Hospital serves many patients from various parts of the country and its facilities need to be in the best condition," said S. Renganathan, Executive Director/Chief Operating Officer of Commercial Bank. "We were happy to be able to help this truly worthy institution improve its SICU and hope that these changes will help save more lives."
The renovated SICU was formally opened by Renganathan accompanied by Commercial Bank's Deputy General Manager- Marketing and Trustee of the CSR Trust, Hasrath Munasinghe, members of the corporate and senior management and staff from the Bank's CSR Unit and branches in the region.

With 2,292 beds, the Kandy Teaching Hospital is the largest hospital in Sri Lanka with all specialties under one roof. The hospital receives patients from seven of the nine provinces in the country excluding the Western and Southern provinces.

It has a staff over 5,000 including 100 consultants,660 medical officers and 1700 nurses. According to statistics, the hospital had 199,861 admissions in 2014, at an average of over 500 per day, and a bed occupancy rate of more than 90%.

Commercial Bank's CSR Trust has an extensive, multi-dimensional portfolio of community initiatives that promote IT literacy, online education and English literacy; provide scholarships and laptops to undergraduates; donate essential equipment to hospitals; support the preservation and restoration of sites of historic, cultural or religious significance and support the rehabilitation needs of disabled soldiers.

Some of the on-goingprojects include an annual presentation of scholarships and laptops to 50 undergraduates,the donationto date of fully-equipped IT laboratories to 170 schools,an English education programme for rural school children, a project in partnership with Cisco Networking Academy to offer a comprehensive 'IT Essentials' course for teachers and students free of charge via the Bank's online Education programme, an educational website called 'Sipnena' to support online education in schools, and a project to use online test papers to sharpen the mathematics skills of students preparing for their GCE Ordinary Level examinations.