---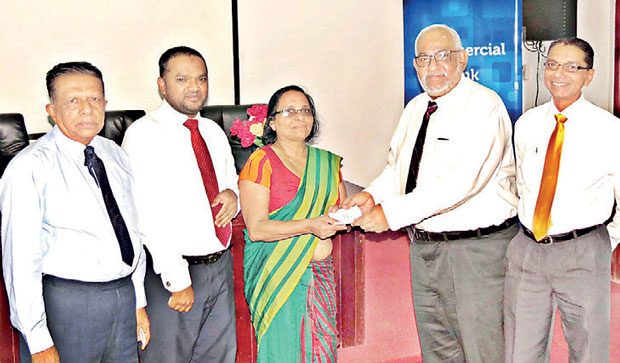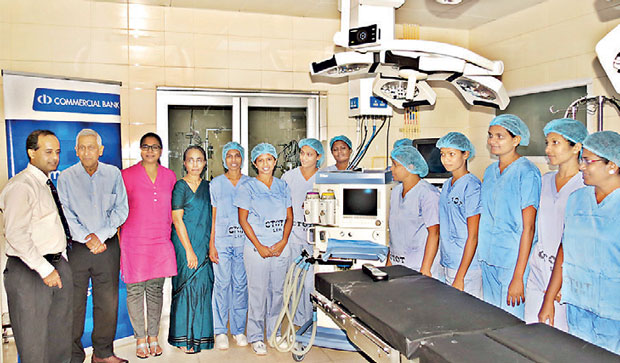 Commercial Bank's Managing Director Jegan Durairatnam presenting the Bank's contribution to the National Eye Hospital project and (right) the presentation of the anaesthesia workstation to the Lady Ridgeway Children's Hospital
The Commercial Bank of Ceylon has supported the Lady Ridgeway Children's Hospital and the National Eye Hospital with timely assistance on two important projects launched by these institutions.
The Bank recently donated an Anaesthesia Workstation with a ventilator for a new cardiac operating theatre being set up at the Lady Ridgeway Hospital, and provided funds for the completion of a visitor canteen at the National Eye Hospital.
The new cardiac operating theatre at the Lady Ridgeway Hospital, appropriately named HOPE (Heart Operations Performed Early), is intended to offer surgery to an additional 500 children a year, who are currently on a waiting list because the two existing cardiac theatres at the hospital are unable to cope with the numbers requiring surgery every year.
"The Children's Heart Centre at Lady Ridgeway Hospital for Children in Colombo is the only dedicated Children's Heart Centre in Sri Lanka, andprovides cardiac surgery to children from all over the country born with heart defects," Commercial Bank's Managing Director Jegan Durairatnam said. "We hope our assistance to the Children's Heart Operating Theatre Project will help expedite its completion and contribute to saving many young lives."
Around 3,000 babies are born in Sri Lanka each year with heart defects.At least 2,000 – 2,500 of these infants will need cardiac surgery within the first few days or years of their lives. The Lady Ridgeway Children's Hospital's two existing cardiac operating theatres perform around 1,000 surgeries a year.
The Bank also supported the National Eye Hospital with assistance to complete a project to enhance its welfare facilities, which will benefit the staff and the general public visiting the hospital daily.
Commercial Bank's Corporate Social Responsibility Trust has an extensive, multi-dimensional portfolio of community initiatives that promote IT literacy, online education and English literacy; provide scholarships and laptops to undergraduates; donate essential equipment to hospitals; support the preservation and restoration of sites of historic, cultural or religious significance and support the rehabilitation needs of 'War Heroes.'
The only Sri Lankan bank to be ranked among the Top 1000 banks of the world for six years consecutively, Commercial Bank operates a network of 253 branches and 653 ATMs in Sri Lanka. The Bank has won multiple awards as Sri Lanka's Best Bank, Best Trade Bank, Strongest Bank, Most Respected Bank from a number of local and international institutions and publications over several years and has also been adjudged one of Sri Lanka's 10 best corporate citizens by the Ceylon Chamber of Commerce for several years.