---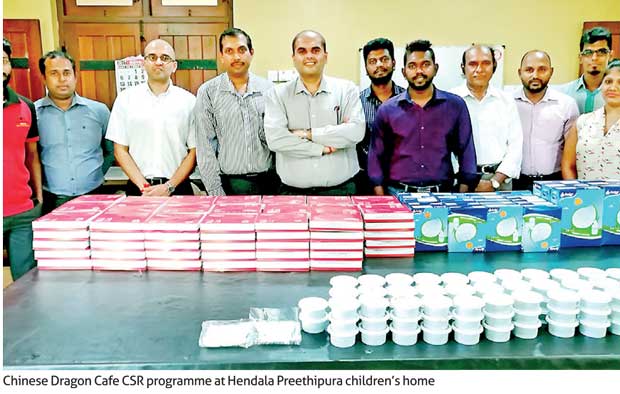 Chinese Dragon Cafe (Pvt.) Ltd, the pioneering restaurant chain in Sri Lanka's Chinese restaurant sphere engaged in a noble CSR initiative with religious activities to celebrate its 75th anniversary.

Religious ceremony and celebrations took place with the participation of Chinese Dragon Cafe (Pvt.) Ltd Managing Director Naishadh Udeshi and the Board of Directors at the Bambalapitiya outlet which is the first outlet of this restaurant chain.

Under the theme of 'Meal to Remember', Chinese Dragon Cafe took the initiative in a CSR activity providing lunch for children at Preethipura children's home and milk powder to its infant home at Hendala.

A friendly get-together was held for all employees of Chinese Dragon Cafe at the head office premises at No.280, Canal Road, Hendala, Wattala. Employees who have completed 10 to 20 years received accolades, anniversary plaques, certificates and cash prizes while who have a serviced for five to ten years received certificates and anniversary plaques whereas all employees received 75th anniversary plaques.

Chinese Dragon Cafe (Pvt.) Ltd Managing Director Naishadh Udeshi said: "As the foremost Chinese restaurant in the country, we have been in the sphere for 75 long years. Over time, many famous restaurants faded away as a result of not sustaining standards of food and non-compliance with change in food habits and lifestyles of people. But Chinese Dragon Cafe had weathered storms over the decades to maintain a great rapport with people. We became the most preferred Chinese restaurant for people in the metro and maintained that position for decades because of the generations of our loyal customers, quality of food and our experienced workers."
He added: "We recognised services of our 300-strong staff today as gratitude towards their dedicated services for decades. We humbly invite our customers to be with Chinese Dragon Cafe in the years to come as we endeavor to serve people with a meal to remember."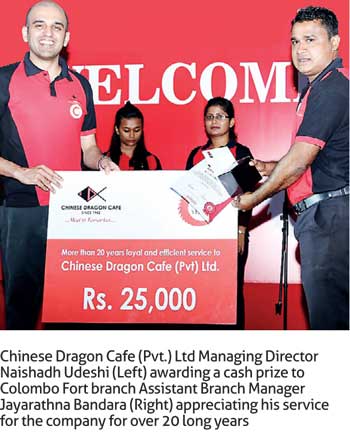 To coincide with its 75th anniversary, Chinese Dragon Cafe introduced five brand-new dishes that are; Dragon Crispy Fried prawns, Dragon Malaysian Spare Ribs, Dragon Mixed Grill, Dragon Prawn Toast and Dragon Cuttlefish Balls.

In addition the mouthwatering dishes of Hot Butter Cuttlefish, Crab Claws, Hot and Spicy Seafood (Tom Yum), Seafood Fried Rice, Chilli Chicken, Manchurian Chicken, Mock Duck in Kung Pao Sauce and Chilli Paste with an array of deviled dishes and complimenting sauces are available to soothe the taste-buds of food loving people.

A Chinese couple who came to our country in 1942 started Chinese Dragon Cafe restaurant in Bambalapitiya. Conventional Chinese cuisine provided by the restaurant to locals became immensely popular among them subsequently. For 75 years Chinese Dragon Cafe has been catering to Sri Lankan consumers with over 300 delicious food recipes.

Currently Chinese Dragon Cafe restaurant chain with its payoff line, 'Meal to Remember' is comprised with eight outlets. The second outlet was unveiled in Mount Lavinia in 2007 and was shifted to Galle Road, Ratmalana in 2015. The third outlet was opened at Rajagiriya in 2010. Fourth one was commissioned at Fort, near the Old Dutch hospital. The company commissioned its Head Office eventually in Hendala. It was followed by the opening of fifth and sixth outlets in Wattala and Pelawatta. Seventh and eighth ones were unveiled in Nawala and Nugegoda.

The ambiance of Chinese Dragon Cafe plays a primary role in attracting families, groups of friends and foreigners to patronise its restaurants eager to soothe their taste buds. Exceptional service provided by experienced and friendly staff is significant too.