---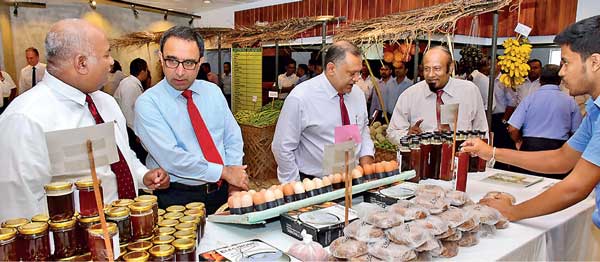 From left: CTC CSR Manager Senaka De Fonseka, BAT South Asia Area Director Syed Javed Iqbal and CTC Chairman Susantha Ratnayake at the fair Pic by Indraratna Balasuriya
By Zahara Zuhair
Ceylon Tobacco Company (CTC) held its Sustainable Agricultural Development Programme (SADP) annual fair recently at the CTC premises, showcasing the products grown by the beneficiary families of the project, giving them the opportunity to sell their organic products to the CTC employees.

The project helps families with inputs, necessary knowledge, skills and supervision to develop home gardens, poultry, animal, apiculture and mushroom cultivation.
"It has grown strength to strength for the last 10 years and we have supported 18,000 families who are living below the poverty line. In Sri Lanka, we have about 71,000 people benefiting from this programme," CTC CSR Manager Senaka De Fonseka said at the event.

"This programme has been recognised locally as well as internationally as one of the best CSR projects," he added.
Being held for a decade, currently they are operating in 16 districts and 18,464 families being empowered while 71,285 being benefitted.

"The SADP has played a crucial part in the empowerment of underprivileged families across the island. Over the last 10 years, CTC has been a driving force behind poverty alleviation at rural level, by enabling thousands of families to achieve a sustainable means of living though the SADP," stated CTC Chief Executive Officer Michael Koest.

Themed, 'Helping those who are willing to help themselves', according to them, a key feature of the SADP is that the environment and ecology are always protected and organic cultivation is encouraged. "We will continue to empower rural communities in time to come," they said. Sharing their story, one of the villagers said that because of this programme they have become economically self-sufficient and able to meet their daily nutritional requirements.

Their aim is to reach out to rural villagers living below the poverty line in lagging regions of Sri Lanka and guiding them to achieve self-sustenance by creating a paradigm shift in thinking, imparting knowledge and resources. Further, their vision is to implement the programme amongst 19,000 rural families by 2016 and alleviate poverty among them in a sustainable manner, provide a balanced meal-improve nutrition intake from 1,429 calories beyond to 2,030 calories per day, increase the levels of agricultural knowledge, etc.