---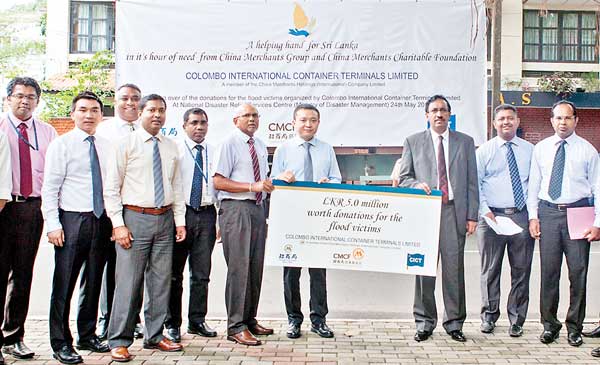 CICT CEO Ray Ren (fourth from right) makes a symbolic presentation to Disaster Management Minister Anura Priyadarshana Yapa at the DMC, in the presence of representatives of the company and government officials
Colombo International Container Terminals (CICT) has presented the first batch of consignment of essential items required by flood victims in Sri Lanka, in support of national efforts to help displaced and affected families return to their homes.

The consignment, valued at Rs 5 million, was provided by the China Merchants Charitable Foundation Limited, the corporate social responsibility arm of CMHI, the parent company of CICT. The first container, comprising of mattresses, bed linen, sleeping bags, mosquito nets, towels, flasks, utensils, school bags, stationery, mosquito repellents and personal hygiene products was presented to Minister of Disaster Management, Anura Priyadarshana Yapa at the national Disaster Management Centre (DMC) by CICT CEO Ray Ren. The company said the balance relief aid comprising of mattresses, bed linen and towels in bulk quantities as requested by the authorities, will be handed over to the Ministry in line with the prioritised needs of the victims over a projected period.

"Our hearts go out to the many thousands of people whose lives have been disrupted and their belongings destroyed in the floods," Ren said. "As a socially responsible corporate in the local business community, CICT is fully committed to extend its support to the effort made at national level for emergency relief assistance."

Employees of CICT also contributed to the flood relief effort in their individual capacities, with a collection of dry rations, medicines and
sanitary products.

Although the company has been in commercial operation for just under three years, CICT has been involved in numerous community initiatives in Sri Lanka including supporting the victims of the Koslanda landslide with cash donations and rations, sponsorship of the Wheelchair Tennis programme of Sri Lanka Tennis Association (SLTA), the recent donation through the China Merchant Charity Foundation of foldable intraocular lenses and cartridges worth US$ 60,000 for cataract surgeries for needy patients to the 'Tribute to love, China – Sri Lanka Free Cataract Surgery Campaign.'
CICT, which commenced operations in July 2013, manages the Colombo South terminal of the Port of Colombo, the first and currently the only deep water terminal in South Asia equipped with facilities to handle the largest vessels afloat.