---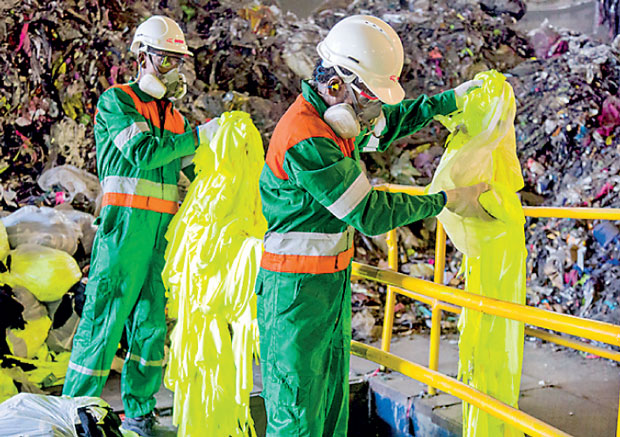 Insee Cement plays an important and responsible role in conducting sound waste management practices. The company was recently re-branded when it was acquired by Siam City Cement Company, a leading cement manufacturer in Thailand.
Insee Cement has won the National Green Awards in Sri Lanka several times and adheres to eco-friendly waste management practices maintained by Insee Ecocycle, the industrial waste management arm of the Insee Group.
Recently a high-powered team from the Central Environmental Authority (CEA) visited the Insee cement manufacturing plant in Puttalam to observe first-hand how the company conducts its waste management process in keeping with the environmental protection license, while significantly contributing to industrial waste management in the country.
The delegates from CEA included Prof. Lal Mervin Dharmasiri, Chairman, Dr. Sanjaya Rathnayake, Acting Deputy Director General, Environmental Pollution Control (EPC) Division, M. Shivakumar, Director Environmental Pollution Control and Ajith Weerasundara, Director, Waste Management Unit.
Prof. Dharmasiri said, "I am appreciative of Insee Cement for their great contribution to protecting the environment. The company's excellent environmental practices are what this country can emulate and that would help to strengthen our environmental sustainability."
The Chief Executive Officer of Insee Cement Nandana Ekanayake said, "We take pride in being able to play a significant role in helping the country's waste management which is vital for the well-being of not only the country but the whole planet. Good practices in waste management are essential for long term protection of the environment. Insee Cement is pleased to contribute to building brighter futures."
The cement manufacturing process requires a high temperature of 1450ºC in the kiln and the team from CEA observed the waste management activities of Insee Ecocycle when it co-processed a wider range of industrial waste including chemicals, sludge, fabrics, solvents, etc.
INSEE Ecocycle has co-processed more than 600,000 MT of industrial waste by partnering with over 350 corporates including government institutions, since its inceptionover the last 14 years in Sri Lanka. CEA was particularly interested in Insee Cement's manufacturing process because waste management is a critical issue in Sri Lanka at the moment.