---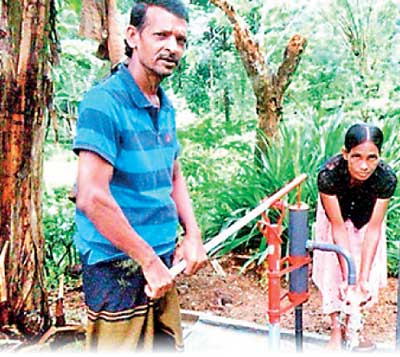 The Brandix group's continuing efforts to improve access to water in rural communities resulted in 367 water supply projects being completed in 2015-16, Sri Lanka's largest apparel exporter reports.
The projects implemented included wells, pipe-borne water connections, water supply systems, tube wells, deep tube wells, rainwater harvesting systems and water filters over the 12 months, all funded or donated by the group under its 'Care For Our Own' (CFOO) initiative.

The projects benefitted families in far-flung villages in 18 districts of Sri Lanka, including Anuradhapura, Polonnaruwa, Batticaloa, Ampara, Hambantota, Matara, Moneragala, Puttalam and Badulla.

The primary beneficiaries of these projects are Brandix employees with identified needs, but in many instances, they serve an extended beneficiary group as the water supply system provided is shared with several families similarly affected. The case of two beneficiaries, Gopalapillai Gajenthini of Kadukamunai and Rajendran Pushpamalar of Chinna-urani, both living two kilometres from the closest source of water in the Batticaloa District, are typical examples. They received a well apiece from Brandix, and Gajenthini who lives with her mother and four siblings, shares her well with seven other families, while Pushpamalar who lives with her parents and two children shares hers with ten other families.

"Access to clean water remains a serious problem in many villages despite efforts by the authorities to address this basic need," said Brandix Head of CSR and Corporate Communications at Anusha Alles.

"Over the past 10 years, Brandix has completed more than 3,000 water supply projects via the Care For Our Own programme, but we will continue to identify and assist families in need of help in the years ahead."

The Ratnapura District with 63 projects topped the beneficiary districts in Brandix's Care For Own Programme in 2015-16, followed by Polonnaruwa with 60, Kurunegala with 57, Kegalle with 55 and Gampaha with 35, the Group said. Interviews to identify beneficiaries in the current financial year are scheduled to commence in July.

In addition to these projects, Brandix has in previous years partnered with several corporate entities to build large community water supply projects for areas or institutions that are faced with serious
water shortages.

In a separate, but cause-linked initiative titled 'Jalavahini,' the group is conducting a series of interactive training programmes across the country to empower women community leaders involved in water resources management in rural Sri Lanka.
The Brandix group's principal CSR efforts are driven by the central corporate theme of 'Water' and constitute a long term commitment to increasing the availability of water and the provision of safe drinking water to those most in need. These projects are planned and executed by the Bindu Foundation - the CSR arm of Brandix. The group's community outreach initiatives also include providing wells and pipe-borne water to communities in and around its manufacturing plants and the improvement of sanitation facilities in needy areas.