---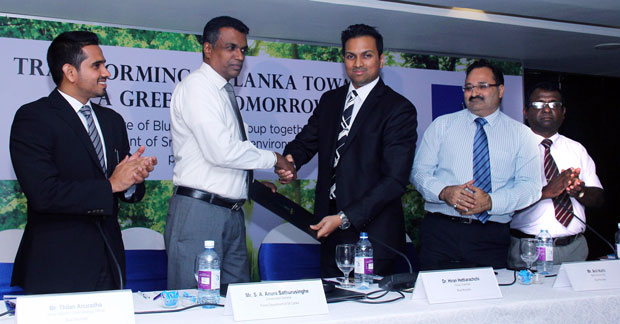 From left: Blue Mountain Group Director/ Cheif Strategy Officer Thilan Anuradha, Forest Department of Sri Lanka Conservator General S.A. Anura Sathurusinghe, Blue Mountain Group Chairman Dr. Hiran Hettiarchchi, Blue Mountain Senior Group CEO Anil Kohli, Forest Department of Sri Lanka Deputy Conservator Nishantha Edirisinghe
Pic by Waruna Wanniarchchi
By Zahara Zuhair
Becoming the first private company to partner with Forest Department of Sri Lanka, Blue Mountain, a real estate company initiated a Rs.15 million CSR project to reforest 125 acres of land in Wilpotha (Puttalam district) recently.
Talking at the agreement signing event, Blue Mountain Group Chairman Dr. Hiran Hettiarchchi said that the project was conceptualized to assist and support national reforestation efforts and is a non-commercial initiative.
Stressing the importance of doing more projects towards protecting the environment where Sri Lanka is more blessed compared to other countries to have more trees than concrete buildings, he said that they are looking forward to do more environmental related projects.
He said that this is only the beginning of a broader concept.
He said that they are hoping to initiate mini forest projects in the cities as well as to appoint a new role called 'Cheif Environmental Officer' (CEO) to head those projects. Forest Department of Sri Lanka Conservator General S.A. Anura Sathurusinghe appreciating Blue Mountain's efforts said that this would be a demonstration to other companies to show how Public Private Partnership would work. He said that the government cannot do everything alone due to reasons such as financing and encouraged others too to come forward to protect the nature.
'Transforming Sri Lanka towards a greener tomorrow' project expects to help to safeguard some of Sri Lanka's endangered forest sites, also to ensure the removal of invasive plants and facilitate in planting a variety of native plant species.
The project also expects to attempt to counter deforestation that is caused by illegal felling, fires, and farming and also to support eco- tourism.
Additionally, it also expects to play a role in contributing to national Carbon sequestration efforts, to reduce county's overall Carbon footprint.