---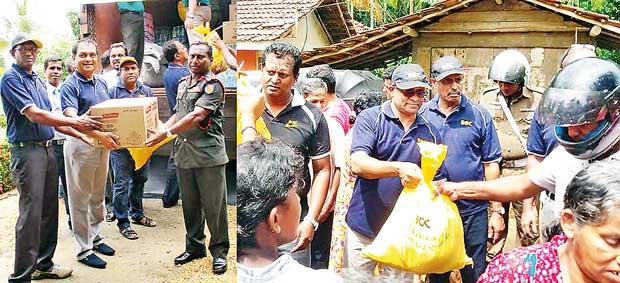 The staff of the Bank of Ceylon raised voluntary donations to aid victims of the national disaster that has occurred due to torrential rain and massive landslides.
Standing alongside with the rest of the Sri Lankans in this difficult time, BOC's staff shared what they could in hope of bringing some hope and relief to affected people in Bulathsinhala, Horana, Galle, Rathnapura and Matara areas assisting them to rebuild their lives once again. The staff donated from their salary in which the Bank's staff, management and trade unions organized and bought goods that were much needed by affected people.
Trucks carrying dry rations and other essential commodities including bed-sheets and mats were dispatched from the Bank of Ceylon head office early on 31st May with the participation of the bank's Chairman, members of the Director Board and the General Manager. Several members of the bank's Board of Directors, representatives of the bank's corporate and executive management and other officials headed to above mentioned areas with the donation to provide necessary manpower to distribute them following the directions received from Divisional Secretaries of the said areas and the Bank's Provincial Assistant General Managers.
Speaking on behalf of the staff the Bank's General Manager D.M Gunasekera said "On behalf of the bank's management and staff I make this statement to extend my heartfelt sympathies to families and friends who have lost their loved ones, their belongings and are displaced or have been adversely affected. I sincerely wish all our fellow citizens strength and courage to face this national disaster sturdily and to make every effort possible to rise up from this calamity and rebuild our country".