---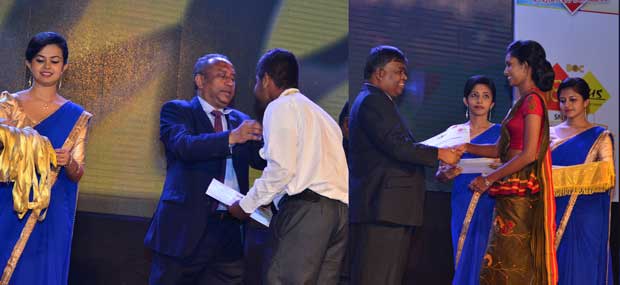 BOC 18 Plus, the premier youth savings account in the country, for the 12th consecutive year, awarded '18 plus scholarships for eligible account holders currently studying in state universities, in recognition of their achievements in the 2014/2015 Advanced Level examination.
This year the bank will be awarding scholarships to 198 students, where 11 students will be eligible for the special merit awards.
Those eligible for these special merit awards were those who obtained the highest marks in those streams of- Science, Mathematics, Commerce, Arts, engineering technology, Bio-System and Common stream. Each Merit student received a scholarship of Rs.50,000 from the bank.
The other 187 students were selected based on their district rank and each one of them were awarded a scholarship worth Rs.30,000.
The Bank of Ceylon has been conducting this annual scholarship awards ceremony since year 2002 as a part of the bank's Corporate Social Responsibility initiatives towards empowering and motivating Sri Lankan youth to pursue higher education and reach their highest potential to achieve a sustainable development in the country. So far BOC has granted 1145 scholarships worth of Rs.31 million. Selection criteria for this year's scholarship were based on 2014 and 2015 Advance Level examination results. 18 Plus account holders who have maintained Rs.5000 uninterruptedly in the account from 1st January to 31st December during the year they sat for the advanced level exam were considered eligible for the scholarship.
This specially designed youth savings account offers an array of benefits for the account holder that include an additional Interest rate of 0.5 percent, insurance coverage for death (Natural / Accident) or disability due to accident of the account holder at the age range 18-35 years (condition apply), insurance coverage for hospitalization of account holder (conditions apply), a valuable gift on the wedding of the account holder, Ran Kekulu children's savings account for the 1st child with a initial deposit from the bank based on the 18 Plus account balance and a special loan scheme based on the account balance.
From this year onwards, in order to be eligible for a 18 Plus scholarship the account holder should maintain a minimum of Rs.10,000 from January 1st to December 31st 2017 in the 18 Plus account.
Understanding the current need of the young generation, BOC has re-energized the '18 Plus' account as an '18 Plus-SmartGen' account that enables tech-savy youth to experience sophisticated banking at their convenience. The bank has digitally enabled SmartGen account holders to transact 24X7 throughout the year with free access to online banking.