---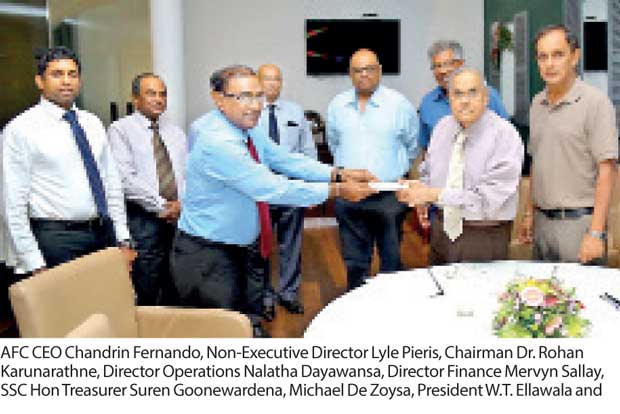 Arpico Finance Company PLC (AFC) will put its mark on Sri Lanka's most historic cricketing venue, the Sinhalese Sports Club (SSC), by sponsoring the construction of a pavilion that will have a 1,000 seat capacity spread over three levels.

AFC was established in 1951, carving out a reputation as a leader in leasing and hire purchase facilities for vehicles and has since expanded into trade finance, real estate and other areas of business in keeping with the demand from the local market.

Speaking about the sponsorship, Arpico Finance Company PLC Managing Director Shanil Dayawansa said, "This is the coming together of two pioneering institutions in Sri Lanka – the 118-year-old SSC and Sri Lanka's second oldest finance company established 67 years ago. The opportunity to be present at the SSC is yet another historic milestone for us at AFC and we look forward to building this partnership over the coming years and being part of the legendary thrills and experiences the SSC is synonymous for."

Commenting on the sponsorship, SSC President W.T. Ellawala said, "The SSC is deeply grateful to Arpico Finance for its sponsorship of a pavilion that will add approximately 1000 seats to its spectator capacity. Arpico Finance is one of the oldest finance companies in Sri Lanka and the SSC is one of the oldest cricket clubs in the country and this partnership to support develop infrastructure in one of the finest cricket venues in the country will certainly add more value to the SSC's present position as one of the most preferred cricket grounds in Sri Lanka.

We urge the corporate sector to follow Arpico Finance's lead and support the SSC to upgrade and expand its cricket infrastructure."

The AFC-branded pavilion will be ready ahead of the upcoming big match season, the most celebrated series of cricketing encounters in the country's sporting calendar. The annual school cricketing encounters between the leading boys' schools have attracted over 10,000 spectators on each day of the match, including an influx of old boys living overseas.