---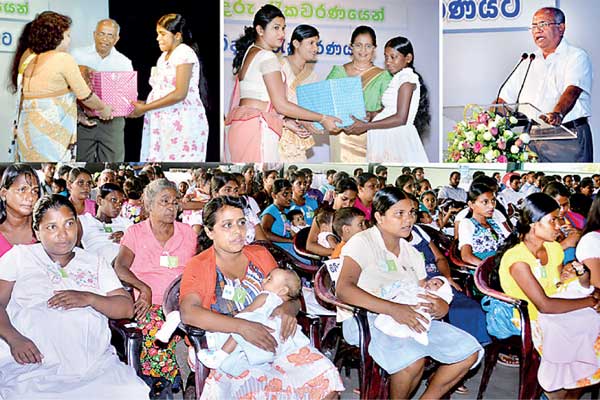 Antler group, which counts an impressive 36 years in the local industrial network held the 3rd anniversary of their mother- child community service on 28th January.
This event was held at the group's factory complex located in Jamburaliya. The pregnant mothers of the area received gift parcels containing nutritional food items and children's requisites at this occasion.

In accordance with the noble concept of the Pioneer of the Antler group of industries, chairman Ananda Jayasinghe of securing the nutrition of the pregnant mothers of Piliyandala the home ground of Antler group this project was started.

During the past three years, every month without a break pregnant mothers selected from the maternity clinics of Jamburaliya and Kahapola and families with a large number of children, were gifted a parcel of nutritious food items sponsored by the members of the staff of the company.
Under the theme "Let us contribute in strengthening a healthy generation of children" the importance of this occasion was highlighted by the chairman Ananda Jayasinghe at this event.

" we began with the pure intention of contributing towards helping the mothers in bringing up a healthy child. The first year was spend cherishing this beautiful thought and the second year too followed, and now we have witness the end of the third year. We shall continue. Let us contribute in some form for the sake of Sinhala, Tamil and Muslim mothers of our country. Let bus help build a great generation. Without blaming the darkness, let us try to light even a piece of a candle.
Our wish is that a great nation, which values motherhood, protect the children and secure the generation would be born."
The directors of the Antler group of industries Jayanthi Jayasinghe, Ashani Jayasinghe, Nilushi Jayasinghe and Nalaka Wimalarathne and a team of officials were present at this event.