---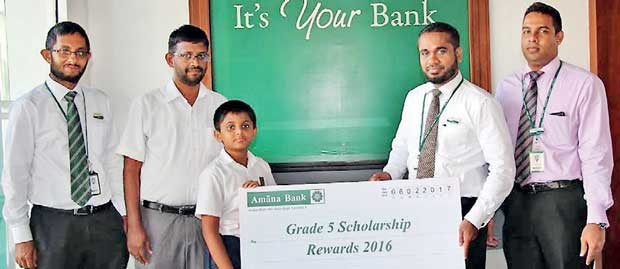 Amãna Bank Head of Deposits and Personal Finance Arshad Jamaldeen recognizes the children's savings account holder who was ranked first in the Colombo District at the Year 5 Scholarship examination in the presence of Manager Corporate Communication and Marketing Azim Rali and Manager Brand Marketing Aravindha Aluvihare
Amãna Bank recently rewarded its children's savings account holders who performed exceptionally well at the Grade 5 Scholarship examination in 2016.
Over 100 students who surpassed the respective cut-off marks of their district were rewarded with a credit of Rs.5000 to their children's savings account balance.
Three students, who were ranked first in the Colombo, Puttalam and Batticaloa Districts were rewarded an additional Rs.10,000 to their account.
Commenting on this programme, Amãna Bank Vice President Retail Banking and Strategic Marketing said, "We are really happy to witness students benefiting from this programme we commenced last year. We strongly believe that encouraging and rewarding academic performance is important aspect in motivating the children to reach great heights."
In addition to this scheme, the bank conducted scholarship seminars prior to the examinations for the Grade Five students throughout multiple locations. These seminars were facilitated by renowned educators to help school children excel in the scholarship examination.