---
Head of Sustainability of Aitken Spence, Azam Bakeer Markar was named among the "100 Most Impactful CSR Leaders [Global Listing]" at the 6th edition of the World CSR Congress held in Mumbai's Taj Lands recently.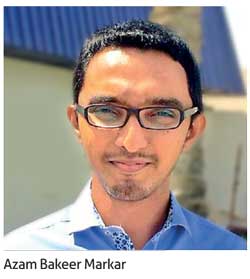 The annual listing is decided by qualified pool of researchers under a globally convened CSR Advisory Council consisting of CSR and Sustainability senior experts and professionals.
Azam was a founding Director of the United Nations Global Compact Network Sri Lanka, which advocates the adoption of corporate sustainability practices and alignment with global development goals amongst the country's corporate sector. In addition, to being responsible for the Sustainability function of Aitken Spence for a decade, Bakeer Markar manages the new ventures, corporate communication and branding functions of the conglomerate.
Aitken Spence is the only company in Sri Lanka to be recognized as a 'Best Corporate Citizen' by the Ceylon Chamber of Commerce for ten consecutive years. The diversified group's sustainability framework is rated "Platinum" continually by the STING Corporate Accountability Index, while repeatedly recognizing it as 'Best in Class for Policy Coverage'.
Aitken Spence is amongst the first companies in the world to endorse the Women's Empowerment Principles, a joint initiative of UN Women and UN Global Compact to promote gender equality in business, and the first company to do so in Sri Lanka. Aitken Spence is also one of the first companies in Sri Lanka to pledge its support to the Caring for Climate initiative, which is a joint effort by UNEP, UNFCCC and UNGC to promote positive climate action in business.
Azam Bakeer Markar is a member of the Board of Management of the Lakshman Kadirgamar Institute for International Relations & Strategic Studies. He holds leadership positions in several civil society organisations focused on youth, community relations and civic mobilisation. Azam holds BSc (Hons) in International Economics from Loughborough University (UK) and a Diploma in International Relations.