---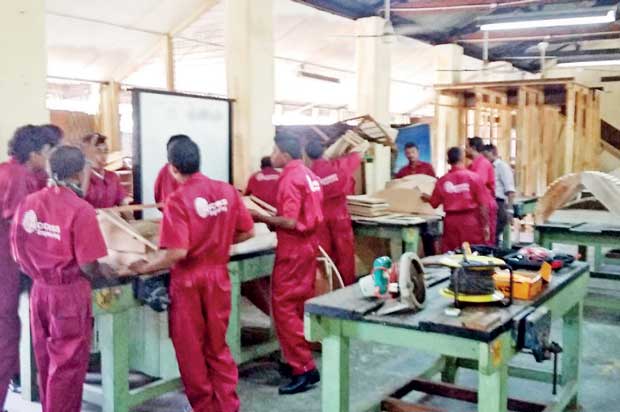 Shortage of skilled workforce is critical to many economies so as to Sri Lanka, which is one of the recognized shortfalls, that hinders economic recovery.
Recognizing the increasing need for skilled workers, Access Engineering; the foremost civil engineering company in Sri Lanka has recently signed an MOU with the Department of Technical Education and Training for the development of skilled workers in trades of Masonry, Carpentry and Welding.
The increase in local and foreign investments in development projects in Sri Lanka has prompted a massive demand for skilled workers in construction industry. The majority of the work force available in Sri Lanka is not properly skilled and trained to meet the demand in hand, thus leading many construction firms to source foreign labor.
In contrast to the various governmental initiatives that have been taken place towards reaching the rural majority in Sri Lanka with necessary skills, certain reluctance has been observed by young men to venture into vocations such as masonry, carpentry, wielding…etc, due to the conventional negative perceptions and lack of societal recognition.
Recognizing the criticality in the issue and the support needed from the private sector, Access Engineering PLC has set forth this apprenticeship program together with the Department of Technical Education and Training Facilities with the forward vision to strengthen the skilled workforce which is in demand in Sri Lanka and to uplift the living standards of rural communities through better employment opportunities. This apprenticeship program involves three months periods, including six weeks of in house training and six weeks of on-site training. The contents of the programs are structured to enhance the quality of workmanship as per the demand exists in the industry. The programmes are conducted by a highly professional and qualified team of academics and industrialists and each program allows twenty apprentices to get enrolled through registered technical collages in the country. The apprentices are provided with the essential materials required for the course work, tool kits, accommodation and a special monthly allowance during the course of the programme.
First & the second phases of the program have been successfully completed at Technical College, Ratmalana and these batches of apprentices are currently employed in diverse Access Engineering's construction projects spread across the country. The third phase of the program is currently progressing at the Technical College, Kuliyapitiya and the fourth phase of the program is scheduled to take place in Technical Collage, Monaragala.
The programme is proposed to be enhanced with the inclusion of other trades related to construction industry in the future. The apprentices that successfully complete and pass out from the institutes avail themselves of the opportunity to find a placement in any working sites of Access Engineering PLC or in other construction firms.