---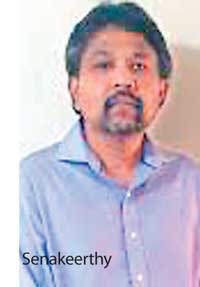 Advanced Technology and Training Systems Group (Pvt.) Ltd (ATT), a Singapore-based software company, is one of the latest to invest in Sri Lanka's developing IT market.

The company founded in 1998 in Singapore, has branches in the U.S., India, Australia, Vietnam and now in Sri Lanka. The company specializes in electronic display, system integration, security management solution, electronic queue management solution, air traffic solutions and traffic management solutions.

The company is also an ISO 90001:2000certified company in design, integration and maintenance of electronics and company systems as well as in quality management systems.
Senakeerthy Subramaniam, Business Development Director of ATT Singapore, said the company entered the Sri Lankan market in February 20016.

Subramaniama, who is Sri Lankan by birth, said he settled in Singapore over 16 years ago, but had never forgotten that it was Sri Lanka's system of free education that helped him to reach the position he now occupies.
A graduate of Peradeniya University, he said he owed the country a debt of gratitude and this was what pushed him to convincing his board of directors into entering the field in Sri Lanka.
"One of my primary motives for bringing my company to the country is to show my appreciation for the free education I received here.

Our company in addition to whatever business we build up here is to help train youngsters in the field of web and database application and development. Our intention is not only to train young people in this field. We aim to absorb the best cadres into our main company and its branches worldwide.
"So we will not only be providing youngsters educational opportunities, but highly paid employment opportunities as well.

"Our course will last six months and will provide on the job training and experience. Our intention is to ensure that all of those who pass through our hands find gainful employment. As I mentioned those who apply themselves will be automatically absorbed by our parent company and its branches at the end of the six-month period.

"However there are one or two drawbacks we face in this country. Since we are absolutely new to Sri Lanka, the volume of business is low and we are not thinking in terms of profit at the moment. Initially we intended to provide board and accommodation to the students. But since we are not making any profit here at the moment we cannot afford further expenditure on board and lodging for students.

"Also at this moment we will be limiting our training programmes to war victims and otherwise abled students, irrespective of ethnicity or religion. We are looking to civil society organisations and religious bodies during the initial period to help provide board and lodging to needy students.
"We are not looking at particular educational qualifications. Our criteria is that students must be war-affected victims and or otherwise abled youngsters who are not employed and have not been employed for at least three months.

As I mentioned our aim is to help ease the unemployment in the country and to increase educational opportunities.
To help explain exactly what I mean regarding educational qualifications, I like to take as an example our present Sri Lankan Director Suhirthan. A youngster during Sri Lanka's civil conflict, Suhirthan like most youngsters of that period was suspected of having connections with one or the other militant groups in the peninsula.

Due to this he was forced to drop out of school at the eighth grade and was hiding from both militant groups as well as state forces. Subsequently he was forced to flee to India, but was too old to take his place at 8th grade. Undeterred Suhirthan self-taught himself and went on to work at any type of job he could get. He subsequently joined our branch office in India and followed out course.
Today he is the Director of our Sri Lanka branch. This type of opportunity will be available to all of our students. All they have to do is to take maximum advantage of the opportunity like Suhirthan - a self-taught man with no formal education.

"Of course we look to tap into the IT market in the country and spread our base into the rural areas. But this our long-term plan and is dependent on how the business climate in the country develops as well as how our market share increases.

"Once we are able to expand into rural Sri Lanka, our courses will free to students as they will no longer have to pay for board and accommodation."