---
Mother Truong Thi Sau – is very gentle and reincarnated a character of the Buddha's day.
If there are great people in this world, it is because they were born and raised by great Mothers. Mother Truong Thi Sau is such a mother. She lived in a small village along the river in Tra On district, Vinh Long province in Southern Vietnam, gave birth to 6 children. She offered her husband, 2 sons and 1 grandson to the order of the Buddha Sasana and let them to become monks. Her youngest son Venerable Dhammananda Thich Phuoc Ngoc Thero became an internationaly recognized Buddhist monk in his outstanding philanthrophyical performances in many countries. He is now an International Envoy to The Buddhist Commendation Committee of Sri Lankan Government and the President of the Fund for Children Development Center called Isuru Sevana.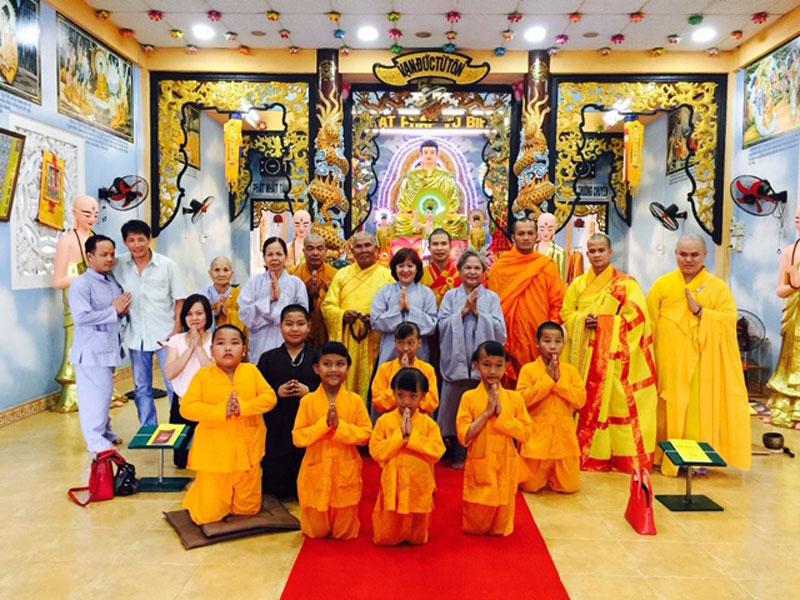 Mother Truong Thi Sau was born in 1942, like many rural women, she was unable to go to school, due to the agricultural work for her family. Sooner after her marriage, her husband decided to become a monk, the burden of raising the children was put on her shoulders. But with endless effort and love, she overcame all difficulties and took care of her 6 children, even in the time of fiercest war as well as economic crisis. Each clump of rice, each coconut, everyday she gathered and traded along the river to earn money for raising the children.
But no matter how hard life was, her smile would never stop and her love always were so gentle. After each day of hard work, she rushed home to embrace the children to protect them. Relatives and neighbors never forget her, who always treated them warmly with kind hearts, and gave her help hands without any hesitation. She also wholeheartedly served Buddhism and became the most typical Buddhist and phylanthropist among her neighborhood.
Mother Sau had a simple life like many women in the riverside village, but the love and kindness in her heart have done miracles. The Buddhists both in Vietnam and abroad respect Ven. Dhammananda Thich Phuoc Ngoc Thero – the youngest son of her, the more they respect her, because they see in her what the Buddha taught about love and compassion, which nurtured the mind and soul of their respectful Master. In particular, the Master's piety to his mother is a profound lesson and a real example for the rest of the Buddhists to follow. Buddhists in the Vinh Long province often compare Ven. Dhammananda Thich Phuoc Ngoc Thero as the reincarnated of an Arahant Moggallana, because of his utterly complete piety to his mother.
Years on, Mother Sau had many more children who were Buddhists in Vietnam and overseas, who were not her born children, but had a deep love and respect towards her. They came to hospitals to take care in her last days, prayed for her to overcome illness and blessed a long life.
Mother Sau lived a simple life, but it was so great. Since now, her image, her story entered the Buddhist teachings on love, parents' sacrifice, and the filial piety. The sutras, songs, and poems about the mother created by Venerable Dhammananda Thich Phuoc Ngoc Thero have touched thoundsands of hearts, will continue to spread the teaching "Piety is Buddha's virtue", "Parents are alive in the Buddha's world" for the Buddhist to follow and correct their behaviour.
Mother Sau passed away in the right season of Vu Lan Festival 2020, in the hospital in front of her devoted children. It was a great lost for the Vietnam society and the Buddhist community. May she attain supreme bliss of Nibbana.
Ven. Dr. Polgaswatte Paramananda
Acting Editor in Chief of Sinhala Dictionary Compiling Institute
Chief Incumbent of Galahitiyawa Purana Pagoda,
Colombo, Sri Lanka