---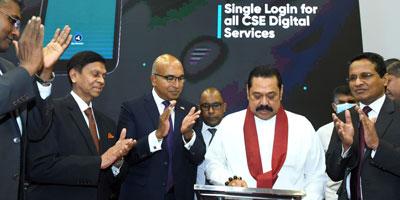 Prime Minister Mahinda Rajapaksa launches the newest digital drive of the Colombo bourse in the presence of senior officials of the ministry, the CSE and the SEC - Pic by Kithsiri de Mel
Capital market operator, the Colombo Stock Exchange (CSE) this morning kicked off its initiative to offer a fully digital on-boarding experience that would allow smoother and efficient operation of the bourse.
The launching of the transformative digital drive, which took place at the CSE trading floor in Colombo today is the second phase of the initiative embarked by the CSE and the Securities and Exchange Commission (SEC) that aims at offering an end-to-end digital onboarding.
The first phase of the initiative was to convert paper-based statements to electronic form and to facilitate companies listed on the CSE to pay dividends electronically to shareholders.
"The digitalization of the Colombo Stock Market brings the future to Sri Lanka positioning it to become a global financial hub, which will redefine the stock market landscape taking a hyper-leap into the future," the CSE said.
The new digital platform that is available via a comprehensive App and a revamped website entails an online account opening feature that removes the barriers to entry for new investors. Further, it enables eligible prospective investors across the country to open a CDS account to trade in the market without the need to visit a branch office.
The CSE stated that the platform is further designed to add value Internal beyond the fundamentals of stock-trading, enabling companies to circulate media releases, host corporate videos and create an engaging digital experience for everyone involved.