---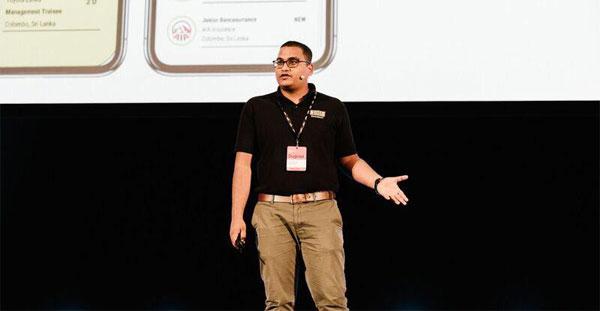 SIXER VIDEO - a Sri Lankan startup that is disrupting traditional recruitment methods initiated and successfully fulfilled their first round of funding where Corporate Finance division of Citizens Development Business Finance Plc acted as the advisor.
SIXER VIDEO allows HR Managers and recruiters to screen candidates via a video before meeting them physically, saving a significant amount of time and money for both parties. The startup has some of Sri Lanka's leading companies such as Stax, Toyota Lanka, Union Assurance, Expo Lanka Freight, UPS, Fonterra, Brandix and John Keells Group as their first set of clients
The initiative has been well recognized and won a number of industry awards during a short period of time, including the 'eSwabhimani & mBillionth Award' in India, 2018. SIXER VIDEO was the runner-up of Disrupt Asia and was one of the startups to represent Sri Lanka at the Oslo Innovation Week 2018.
Sharing his thoughts on the initiative, Mr. Roshan Abeygoonewardena, Director Corporate Finance, CDB said, "SIXER VIDEO is a disruptive, innovative tool for companies to increase efficiency within their recruitment processes, we see great potential in this initiative, not only for local companies but also for international organizations. Partnering and gaining the trust of some of the biggest corporations in Sri Lanka, they are on the right track towards success. The advisory service provided, aligns with CDB's purpose of 'Empowering Aspiration' by helping young result driven SMEs in Sri Lanka reach their highest potential. Apart from advisory services, CDB also provides services such as Debt Financing, Sponsoring SMEs in the Board of Colombo Stock Exchange and Capital Structuring, we wish Sixer Video all the very best for a fruitful future".
Sharing his views, Mr. Imthiyaaz Hassim, Co-Founder and CEO of SIXER VIDEO, said, "CDB's involvement, and corporation as one of Sri Lanka's leading financial service providers in raising the capital investment helped accelerate our growth locally. We see this as an opportunity to push the platform in to the Asian region to be recognized globally. We would like to thank the early adopting companies who understood the benefits of our platform and we urge all companies to use SIXER VIDEO to improve efficiency and save costs involved in the current recruitment processes within Sri Lanka".
Founded in 2017 by Imthiyaaz Hassim and Sam de Silva, the initiative was supported and incubated by the Common Edge Incubator, Asset Ventura's investment helped accelerate the journey of a small tech team. Chathuranga Hasantha, Prathieshna Vekneswaran and Bishan Maddegoda helped with the app and web development. SIXER VIDEO has now established its operations at Work Studio, and is currently expanding its sales team.
The goal of SIXER VIDEO is to have every Sri Lankan company use the platform within their recruitment processes.
For More information about SIXER VIDEO please visit www.sixervideo.com or
Contact Imthiyaaz Hassim on +94 77 831 2087.