---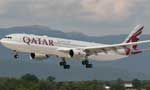 Qatar Airways is offering customers in Sri Lanka, India, Bangladesh, Nepal, Pakistan and the Maldives up to 30 percent savings on airfares to a wide variety of destinations during its four-day sale.



The 96-hour sale, which started at 00:00 hrs on January 12 (local time in each market) and ends at 23:59 hrs on January 15 (local time in each market), offers customers the opportunity to travel to a variety of destinations across Europe, the Middle East, Africa and the Americas at very attractive fares.
Qatar Airways' customers can take advantage of t his offer by visiting any Qatar Airways' sales office, appointed travel partners orqatarairways.com/newyearsale.


The promotion offers a long travel validity period, enabling customers to book their travel starting from January 20 until as far out as December 10, 2015. The savings are based on return fares and include taxes and the seats are limited and subject to availability.


Qatar Airways Vice President for Indian Sub-continent Ihab Sorial said, "Due to the success of our previous promotional campaigns, we have this special offer for our passengers who are planning to travel for leisure or business. The four-day sale provides passengers the opportunity to visit popular destinations and discover newlyintroduced routes available on our rapidly expanding network.


"The special promotion is our way of thanking our loyal passengers for their continued support and providing the opportunity to welcome new travellers while giving them all a great travel experience on-board our award-winning airline."Qatar Airways has seen rapid growth in just 17 years of operation, to the point where today it is flying a modern fleet of 146 aircraft to 146 key business and leisure destinations across the Middle East, Asia Pacific, Africa, North America and South America.


Over the next few months, the network will expand with t he addition of Amsterdam i n The Netherlands on June 16 with daily connections via the state-of-theart Hamad International Airport in Doha.