---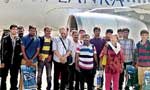 Mihin Lanka, Sri Lanka's national low-cost carrier, proudly flew the members of the Tamil Nadu Chamber of Commerce and Industries (TCCI) from Madurai to Sri Lanka.


The delegation recently flew to the island for a variety of business meetings which were focused on strengthening bilateral trade ties and business linkages between t he Tamil Nadu and Sri Lankan business communities.

The Madurai-headquartered TCCI has more t han 6,500 business and industry member organisations under its wing and is recognized as one of India's most powerful business chambers.

Mihin Lanka is a leading low-cost airline in South Asia that operates flights to many destinations in the Indian subcontinent, the Middle East and South East Asia.Since its launch i n 2007, Mihin Lanka has come a long way, becoming one of the region's most admired affordable travel brands.