---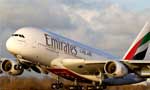 Emirates, a global connector of people and places, will connect even more people with Kenya's capital, Nairobi, when it switches from the current Airbus A330-200 aircraft used on one of the two daily services to a larger Boeing 777-300 ER from 1 May.


The introduction of a Boeing 777-300ER will boost capacity on the route by 1638 seats a week, and make Nairobi an all-Boeing 777 operation for Emirates.
"Our Nairobi-Dubai service is one of our busiest routes in Africa, and it has been steadily growing since we first launched services to Kenya in October 1995 with j ust t wo weekly flights. Nairobi is a very popular destination for both business and leisure travellers, and is a gateway to many of the country's major tourist attractions such as the Masai Mara and its east coast beaches. We anticipate that our additional capacity will stimulate further growth in both tourism and business traffic on the route," said OrhanAbbas, Emirates Senior Vice President, Commercial Operations, Latin America, Southern and CentralAfrica.
"Travellers will be able to enjoy Emirates' Boeing 777 service on both daily flights between Nairobi and Dubai, connecting conveniently to, or from, our worldwide network of more than 140 destinations -in particular, Europe, US, Far East and West Asia. This includes our A380 network of 34 destinations across the globe, such as Beijing, Bangkok, Hong Kong, Kuala Lumpur, Shanghai, Mumbai, London, Frankfurt, Paris, Amsterdam, Rome, Houston, Los Angeles, New York, San Francisco, and Toronto." he added,

The Emirates Boeing 777300ER will offer 354 seats in a three-class configuration, with eight luxurious private suites in First Class, 42 lie-flat seats in Business Class and 304 spacious seats in Economy Class.

All three cabins are equipped with Emirates' award-winning ice entertainment system with more than 2,000 channels of on-demand entertainment to choose from, including movies, television programmes, games, audio books and music from across the world. As with all Emirates flights, passengers enjoy gourmet cuisine and the famous service by our multi-national cabin crew, as well as the extra generous baggage allowance of 30kg in Economy Class, 40kg in Business Class and 50kg in First Class.