---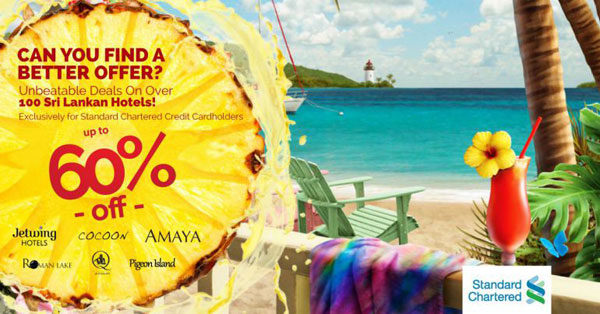 Sri Lanka's largest online travel company, findmyfare.com recently partnered with Standard Chartered Bank to offer unbeatable deals on over 100 Sri Lankan hotels. Now Standard Chartered Bank cardholders can enjoy discounts of up to 60 percent on a bed and breakfast, half-board and full-board basis at select Jetwing, Cocoon, Amaya, Pigeon Island and Roman Lake hotels. This one-of-a-kind offer is available until 31 August 2015.
This incredible discount enables you to enjoy a luxurious holiday at an affordable price. The findmyfare team members guarantee that if any customer can find a better offer, they will beat it. With this promotion spanning over 100 hotels across the island, you will be spoilt for choice. You can log into www.findmyfare.com and use the website's signature easy-to-navigate layouts to find out more about the different hotels on offer.
Since its inception, findmyfare.com has used e-commerce to revolutionize the travel industry in Sri Lanka. The company offers a total online travel solution that meets the diverse needs of discerning travellers. Commenting on the current promotion, Muhammed Imranudeen, Head of Hotels, findmyfare said, "Our team is constantly finding ways to provide our customers with unbeatable deals. This is the ultimate promotion as we are guaranteeing that we can beat any offer available in the market. At findmyfare,com, we constantly provide the most value for money to make life easier for Sri Lankans who want to travel. We always engage with our customers and become invested in their travel dreams, in order to meet their needs"
Commenting on the promotion, Sanjay Wijemanne, Head Retail Clients, Standard Chartered Bank stated, "It is a great honour to partner with findmyfare to offer our cardholders the best hotel deals available in Sri Lanka This offer provides an excellent discount on a wide range of hotels, giving our customers great choice at an affordable price."
In order to help you use the site, findmyfare has a 24 hour online support team that works around the clock to manage all your needs and queries. A live chat feature enables you to interact with staff without having to pick up a phone and dial. Visit www.findmyfare.com to find out more and to start shopping for your dream vacation. Terms and conditions apply.
Sri Lanka's first and largest online travel company, findmyfare was created to spread the joy of travel to everyone. Wanderlust and a commitment to offer the lowest travel rates in the country triggered the inception of the company in 2012.

Findmyfare.com has already gained a reputation as an innovative service provider and problem solver in the travel industry. The booking module addresses customers' requirements and offers a hassle-free booking option and free price \ comparison that allows customers to compare prices of various carriers with the click of a button.

Findmyfare works closely with all the leading international airlines and more than 150,000 hotels worldwide to offer unparalleled travel solutions to customers. Findmyfare aims to be the market leader in travel and e-commerce, offering the best rates and holiday options, anywhere in the world.