---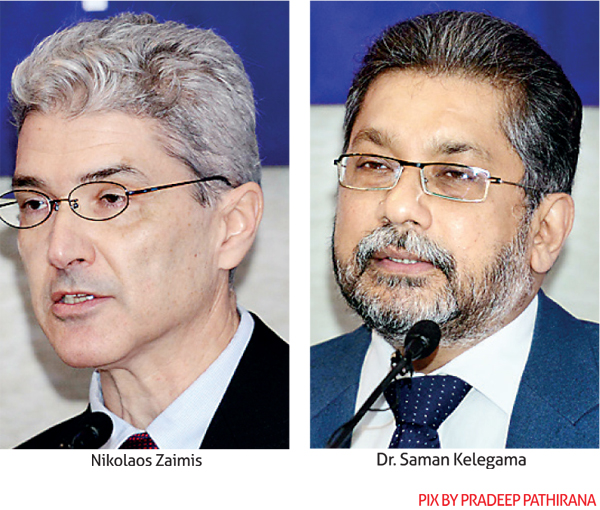 ---


By Chandeepa Wettasinghe
A leading economist recently cast doubts over the immediate or medium-term benefits regaining the coveted General System of Preferences (GSP) Plus from the European Union (EU) could bring in for the country's export sectors.

Sri Lanka lost the zero duty GSP Plus facility in 2010 over allegations of human rights abuses and reverted to a low-duty GSP level. "Sri Lanka has already lost its competitive edge in the EU market for the past five years. Not necessarily on apparel but the other exports like foodstuff, rubber, gems and jewellery," Institute of Policy Studies (IPS) Executive Director Dr. Saman Kelegama said.

He said that it would be extremely challenging for Sri Lanka to regain its lost markets for a significant time period.

"If we regain GSP Plus, the goal will be to consolidate our market. It will be very challenging, but that's not to say it's impossible," Dr. Kelegama added.
He warned that regional markets, which have lower production costs, may pose the largest challenge.

"In South Asia, Bangladesh has an EBA (Everything but Arms) with the EU, Pakistan has GSP Plus and India is in the final stages of its free trade agreement with the EU," Dr. Kelegama said.

Further, Myanmar and Cambodia, the new stars in the frontier markets, are also in the EBA programme.

Even Sri Lankan apparel manufacturers have expanded to these countries to make use of cheaper labour. However, EU Directorate General of Trade, Sustainable Development and GSP Deputy Head Nikolaos Zaimis painted a rosier picture, saying that many GSP Plus members Sri Lanka had competed with between 2005-2010 have advanced to the upper-middle income bracket, thereby being ineligible for the facility.

"There's less competition in GSP Plus, so there are more benefits for Sri Lanka," he said.

The EU accounts for 46 percent of Sri Lanka's exports, of which 64 percent is apparel, while the next biggest are foodstuff and agriculture products, accounting for a combined share of around 7.5 percent, according to the IPS.

The apparel sector is likely to feel the immediate benefit from GSP Plus, as Sri Lankan apparel has now become expensive due to high wages.

Dr. Kelegama said that if the GSP Plus is not received by the end of this year, it could spell trouble for the sector. "Due to the EU economic downturn, they may opt for cheaper products despite the close rapport with Sri Lankan suppliers. The relationship will only last a short time before they switch. Our apparel producers are keeping the market by promising GSP Plus," he added. Hirdaramani Group Director Mahesh Hirdaramani said that the loss of GSP Plus is continuously felt by the apparel sector, with the export revenue up to November 2015 falling millions short of the 12-month period in 2014. Thousands of apparel sector workers lost their livelihoods due to losing GSP Plus in 2010 and Dr. Kelegama said that Sri Lanka's total exports fell 9 percent in 2012 due to the loss.

Perhaps anticipating such a trend, the Sri Lanka Apparel Exporters' Association recently said that it would seek future growth in regional markets, which are now becoming affluent enough to afford the luxury products manufactured by Sri Lanka.

However, Sri Lanka has a dearth of homegrown super brands.

At the recent Sri Lanka Economic Forum, Harvard Centre for International Development Professor Ricardo Hausmann said that the growth of traditional foreign exchange earners like tea and apparel will taper off and they would exist in the economy in stagnation. Zaimis mirrored similar sentiments this week, saying that if Sri Lanka were to regain GSP Plus, it should diversify its product portfolio.

"GSP Plus is also about diversifying, so don't consolidate on your existing products," he said.

Meanwhile, EU Directorate General of Trade, Sustainable Development and GSP Policy Coordinator Alina Boiciuc said that Sri Lanka had only declared 42 percent of its GSP Plus eligible products in 2007 and 58 percent for GSP in 2014.

"They're not declaring because they are not aware of it or for some other reasons. Other countries declare around 80 percent," she said.
Participants at the forum also pondered on whether granting the GSP Plus entitlement would make Sri Lankans less productive during a crucial stage of development.

---
Add comment

Comments will be edited (grammar, spelling and slang) and authorized at the discretion of Daily Mirror online. The website also has the right not to publish selected comments.

---