---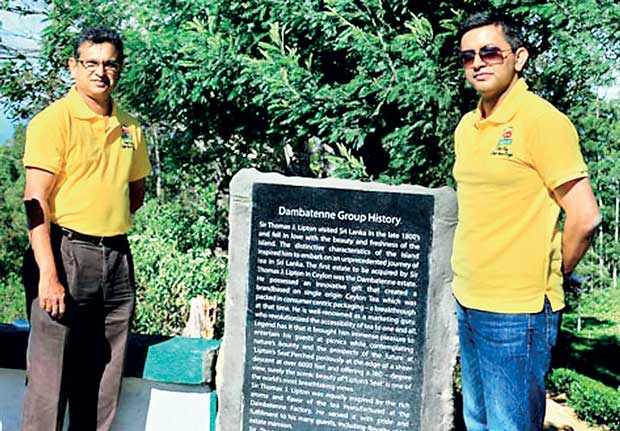 From left: Unilever Tea Division Head Avindra De Silva and Unilever Sri Lanka Country Marketing Director Siddharth Banerjee at the Lipton's seat in Dambatenna


By Lahiru Pothmulla

Lipton Ceylonta, the flagship tea brand of Unilever Sri Lanka, was relaunched recently at the Dambatenna bungalow of Sir Thomas Lipton, the inventor of Lipton tea.

Sir Thomas Lipton was the entrepreneur who created the brand 'Lipton'. He was returning to his homeland Scotland from Australia and made a stop in Sri Lanka in 1890, where he met James Taylor, who introduced tea to Sri Lanka.

"If it wasn't for Sir Thomas Lipton, Ceylon tea or Sri Lankan tea wouldn't have acknowledged internationally or the country could not have made it to the world map," Unilever Sri Lanka Country Marketing Director Siddharth Banerjee said at the relaunch held at the Lipton Bungalow in Dambatenne, Haputale.

"Sir Thomas was full of spirit and never let an opportunity go by. He was also imaginative and was considered as a pioneer in modern world advertising.
Honesty was another quality of his. His intentions were pure when he uplifted the livelihood and living condition of his employees. He always wanted to apply sustainability into his products. Sir Thomas also had positive opinions which ultimately led him to become a millionaire at the age of 29," Banerjee said.
He said Sir Thomas Lipton's endless devotion to revolutionize the Sri Lankan tea industry had made the Lipton brand reign supreme in the evolutionary journey of tea in Sri Lanka.

"Lipton is credited for being the first branded tea in Sri Lanka to market the premium quality of Ceylon tea and deliver the experience of its taste to the world. It is for this reason that Lipton is feted as the world's number one tea enjoyed by millions across the world every day," he said.

Lipton Ceylonta's BOPF (Broken Orange Pekoe Fannings) has been graded for its quality and clear and smaller tea leaves.

Meanwhile, Unilever Tea Division Head Avindra De Silva said tea used in Lipton tea bags comes 100 percent from Rainforest Alliance (RA)-certified plantations, which shows that Lipton is a responsible cup of quality blended tea.


Thomas Lipton and Lipton's tea

Sir Thomas Lipton launched tea business in Sri Lanka in 1890s and become wealthy as a successful businessman in tea industry several years later. As he didn't trust middlemen when importing tea, he sought the possibilities of growing tea and bringing it direct to Britain. Then he organized a chain of 300 stores in the British Isles, and then entered the tea market, introducing the idea of individually packed blends.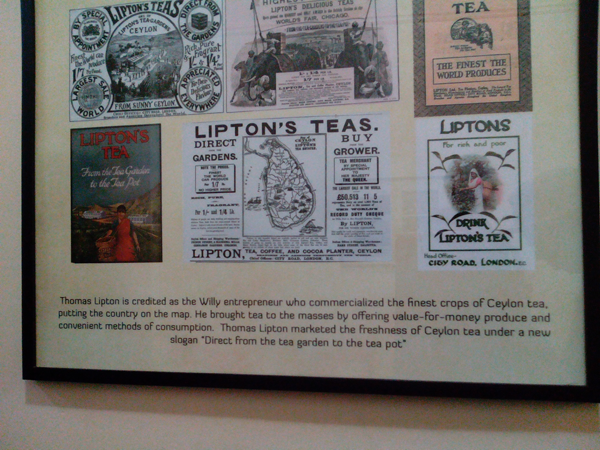 Thomas Lipton was knighted by Queen Victoria in 1898 due to his exceptional contributions in the tea trade and became Sir Thomas Lipton at the age of forty-eight.

In 1893 Thomas Lipton officially established the Thomas J Lipton Company. After a number of companies had claimed the ownership of Lipton tea throughout the years, the Lipton tea business was acquired by Unilever in stages between 1938 and 1972.

Sir Thomas's Bungalow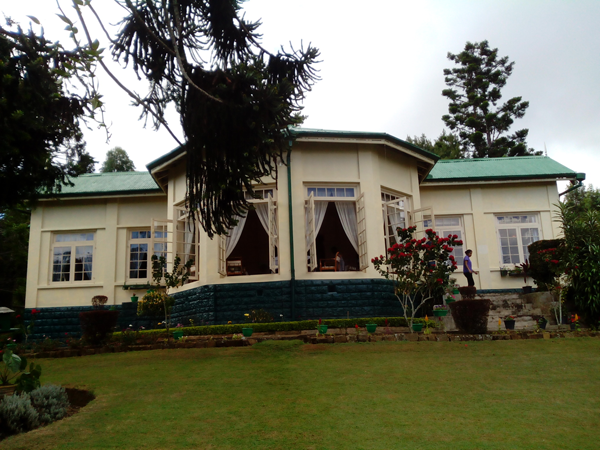 The re-launch of the Lipton Ceylonta was disclosed to media at the Sir Thomas Lipton's bungalow in Dambatenna to give a first-hand experience on tea culture. The bungalow which is almost two centuries aged is a cozy residence build amidst the Dambatenna tea estate. Just about few kilometers away from the bungalow is a tea-nursery with a variety of teas at different ages. Women, also at different ages, could be seen throughout the tea estates plucking tea leaves. Though it may seem as a beautiful scenery for sore eyes, the stories of their lives may not be so.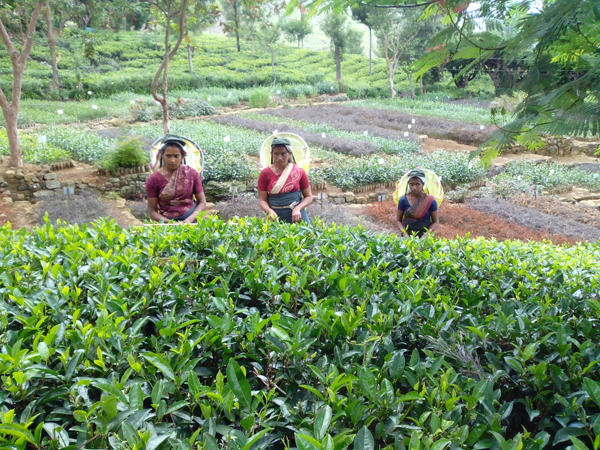 A tea-nursery


Lipton's Seat

The re-launch of Ceylonta tea also sought the unveiling of a statue of Sir Thomas Lipton at the Lipton's seat, located 6,000 feet from sea level at a natural terrace with a breathtaking view in Dambatenne tea estate. Lipton was said to have spent his time taking in the view with a cuppa back in 1890s at the location, thus the name Lipton's seat.

Lipton's seat is a destination for many tourists visiting Haputale regardless of the narrow roads leading to it. Lipton's seat is an ideal location for hikers to reach in a mild climate. At Lipton's Seat, visitors get the opportunity to try tea from Ravi Shankar's little tea shop.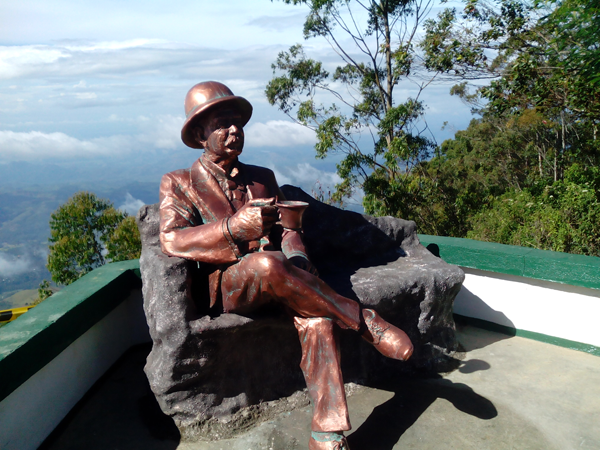 Dambatenne Tea Factory

On the way to Lipton's seat from Haputale is the Dambatenne Tea Factory. Built in late 1890s by Sir Thomas Lipton after purchasing Dambatenne, Laymostotte and Monerakande tea estates, the factory is similar to a tea museum though it still functions as a factory. Visitors get to observe the processes of tea making, tea at different stages and also verities of tea from green tea to silver tips. The highest priced tea variety in the world, silver tips is believed to have a positive impact on complexion.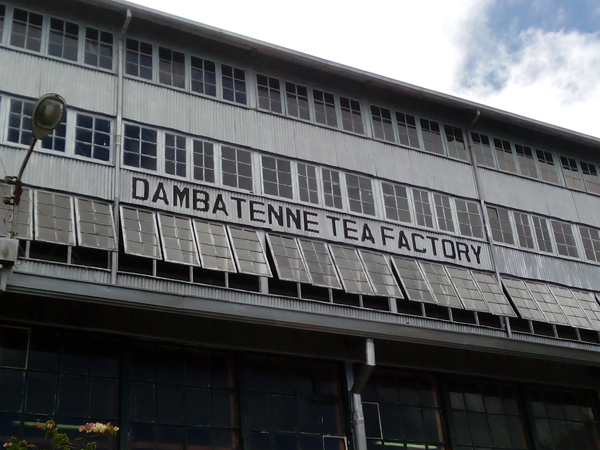 Through his own factory, Sir Thomas Lipton was able to make tea accessible for all in an era where the beverage was limited among the wealthy. His catchy phrase 'Direct from the tea garden to the tea pot' had lured people across the world to taste tea.
---
---
Add comment

Comments will be edited (grammar, spelling and slang) and authorized at the discretion of Daily Mirror online. The website also has the right not to publish selected comments.

---