---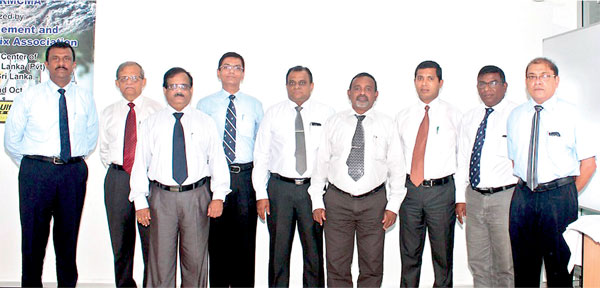 From left: Ultratech Cement Lanka (Pvt.) Ltd AGM Sales Jerry Stephen, RMCMA India Principal Consultant Vijaykumar R. Kulkarni, Ultratech Cement Lanka (Pvt.) Ltd Chief Executive Kiran Redkar, Technical & QA General Manager Sandeep Holey, Lanka Ready mix Concrete Association Secretary Vajira Jayasooriya, Lanka Ready mix Concrete Association Chairman Anura Withanage, Lanka Ready mix Concrete Association Treasury Jeremy Adams, Ultratech Cement Lanka (Pvt.) Ltd AGM Technical Ananda Silva and Ultratech Cement Lanka (Pvt.) Ltd AGM Sales Duminda Senewirathne



UltraTech Cement Lanka (P) Ltd along with Lanka Ready Mix Concrete Association (LRCA) organised a Concrete Technologist Training and Certification course recently.


This five-day industrial training course was conducted at the training centre of UltraTech Cement Lanka (P) Ltd targeting the quality assurance engineers of the member companies of LRCA. The course was facilitated by the National Ready Mix Concrete Association of America (NRMCA) and Ready Mixed Concrete Manufactures' Association India (RMCMA).
The construction industry has benefitted from ready mix concrete right from its inception. Since then the technology has grown tremendously in Western countries and lately in India as well. In this context, the course provided extensive knowledge of Ready Mix Concrete starting from fundamentals, mixture proportioning, fresh concrete and aggregates tests, and quality control procedures to troubleshooting. The audience was privileged to gain wisdom and interact with Vijaykumar Kulkarni and Dr. Anuj Maheswari, who are senior veterans of the industry from India. Kulkarni has more than 40 years of experience in different spheres of civil engineering and had done pioneering work in evolving and implementing quality scheme for ready mix concrete. Dr. Maheswari has held many senior positions in the ready mix concrete division of reputed companies and currently is affiliated to Reliance Industries Limited.
During the inauguration UltraTech Cement Lanka Chief Executive Officer Kiran Redkar said, "This is a unique initiative in Sri Lanka which has been implemented with the assistance of RMCMA, India. The construction industry is expected to contribute to 10 percent of Sri Lanka's gross domestic product (GDP) in the forthcoming years. The current knowledge and awareness of the Sri Lankan engineers should be promoted to support the new government's endeavours towards a 360-degree development inclusive of subterranean."
LRCA Chairman Anura Vithana mentioned, "LRCA is proud to partner with UltraTech to develop and raise the bar of industry standards. This course is aligned with NRMCA guidelines which suits both local and international construction specifications. Ready mix concrete technicians should focus on the usage of high grade concrete and ways to overcome environmental challenges such as waste management in concrete and recycling."
UltraTech Cement Lanka General Manager Marketing and Technical Sandeep Holey said, "With innovative and intricate constructions surging across the country, detailed attention is required to maintain safety and technical standards. We need qualified and technically competent Sri Lankan engineers to work in these projects and to pursue their careers in the ready mix concrete category which is a crucial part of a nation's infrastructure backdrop."
UltraTech Cement, a major player in the Sri Lankan cement industry, provides superior quality products of Ordinary Portland Cement (OPC) and Portland Pozzolana Cement (PPC). The Lanka Ready Mix Concrete Association was formed in 1998 with the view to unite and equip membership to produce and maintain quality ready mix concrete by introducing advanced technologies. LRCA also ensures that relevant utility products are used in correct manner to make durable and serviceable finished products.