---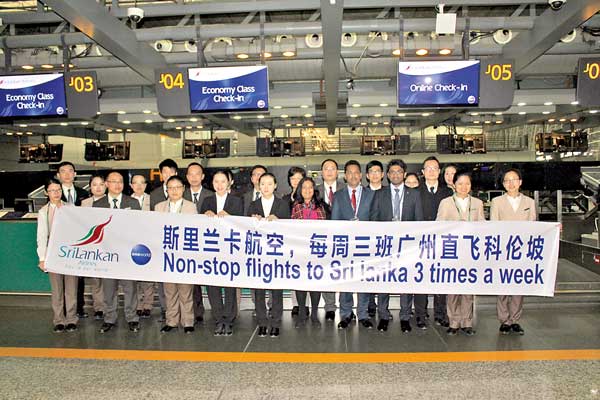 UL team with banner



Airlines introduced thrice weekly non-stop flights from Guangzhou to Colombo from January 2016, on three of its four frequencies, becoming the first airline operating direct flights between Guangzhou and Colombo in the South China market.


The flying hours of these non-stop frequencies are estimated to be 05 hours and 40 minutes whereas the previous operations via Bangkok took 07 hours and 30 minutes of flying hours. The Guangzhou route will have the highest frequency with 07 weekly flights out of the rest of the destinations operated by SriLankan Airlines in the China market, with the launch of these thrice -weekly direct flights. With this new introduction, SriLankan Airlines will complete its strategy of deploying direct flights to Colombo from all four stations in its China market, Beijing, Shanghai, Kunming and Guangzhou.

In January, 2011, SriLankan Airlines commenced its 03 weekly Guangzhou-Colombo operations via Bangkok and later added a 4th flight in February, 2012.
With the commencement of the new non-stop flights this month, SriLankan Airlines will intensify its influence and meet the needs of South China market. The new flights are to be operated with wide body A330-300 and A330-200 aircraft. SriLankan Airlines aims to offer its customers an enjoyable flight experience onboard its latest A330-330, with 28 Business Class seats and 269 Economy Class seats.

The SriLankan fleet contains luxurious seats that have ample pitch and width. Seating is in a two-class system of Business and Economy. Business classes on long haul aircraft are equipped with flat-bed seats. The latest Thales Avant in-flight entertainment system has the latest Audio / Video On Demand function with games etc. Complementing this facility are the wide screens with superior high resolution picture quality for infinite viewing pleasure. Also available is the air-show with forward and downward cameras; and video games in most seats. Business Class also has an on-demand movie library.
SriLankan Airlines celebrates its 10th anniversary of entering the China market this year. With persistence, innovation and diligent teamwork in the past years, SriLankan Airlines created its own mark step by step in China market. From just one destination to four cities and from 03 flights to 18 (including 3 direct flights) weekly flights, and from joining oneworld to the fleet renewal program, these achievements are attributes of the enormous potential of the China market.

On October 8, 2015, SriLankan Airlines was awarded the Superior Achievement in Passenger Experience -Asia Pacific Region, at the APEX Awards – 2015 held in Oregon – USA. SriLankan Airlines was also awarded the "Best Full Service Airline – Central and South Asia by Future Travel Experience (FTE Awards) at the Singapore EXPO in November 2015 and "Superior Achievement Award for Passenger Experience in Asia and Australasia" by APEX at the EXPO in Portland Oregon USA in September 2015.

In 2014, the number of Chinese tourists overseas travel reached over one hundred million times. SriLankan Airlines see China as a very important market in the Far East. SriLankan Airlines intends on preparing a solid foundation for the whole year, with this strategic plan of introducing the new non-stop flights at the start of 2016, achieving operating goals for the new year and providing an even better product and seamless services to its Chinese customers.