---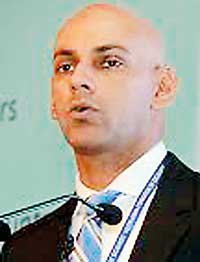 Sri Lanka's capital market regulator yesterday highlighted the need for a joint regulatory mechanism within the South Asian region to promote more investments to the region and to create regulatory consistency.
"I wish to reiterate the importance of formulating a joint regulatory mechanism while safeguarding the sovereignty of the respective nations and unique characteristics in each of our markets," Securities and Exchange Commission (SEC) Chairman Tilak Karunaratne said.
"Joint initiatives should be taken to address overlapping concerns and interests," he added.
Karunaratne said apart from achieving the fundamental objectives of securities regulation such and protecting investor interest and ensuring a level-playing field, the regulators in the region should try to focus on facilitating enforcement of securities laws across borders.
According to him, this should enhance regulatory consistency for international market participants and moreover combat the ill effects of over dependence within the region.
Karunaratne was addressing a regional investment conference in Colombo, organised by the South Asian Federation of Exchanges and Colombo Stock Exchange (CSE).
The SEC has been in a lengthy process for some time fine tuning its Act in order to keep up with the changes in global capital markets and best practices.
The CSE is currently engaged in a demutualization process, which is awaiting Parliament nod "in the not too distant future."
The SEC, CSE and Central Bank have also jointly initiated a programme to implement the Counter Party Payment (CPP) system to mitigate to transaction risks.
Meanwhile, echoing what Karunaratne said, Securities and Exchange Board of India (SEBI) Deputy General Manager B.J. Dilip during a panel discussion at the event identified the need for uniform grounds within the region in the areas of disclosures, corporate governance, enforcement, listing requirements, etc.
He also noted that regulators in the region should work on cross-border listings.
Bangladesh SEC Executive Director Mohammad Mahbubul Alam said that they were looking for help from neighbouring countries and other regulators in activating the regulatory front for regional integration and bilateral progression.



---



The Colombo Stock Exchange (CSE) regulator, the Securities and Exchange Commission (SEC), is facing a number of constraints in carrying out its duties in an efficient manner, according to a top official.
"Our securities law was enacted 28 years ago and needs amending to face future requirements and some of the other challenges," SEC Director General Vajira Wijegunawardene said.
SEC Chairman Tilak Karunaratne said that all efforts would be made to fast track a new Act and get it approved by Parliament, as the current Act, which had been amended in 1991, 2003 and 2009, only stipulate criminal charges against infringers, which are harder to prove.
"The burden of proof is that much greater. However, with the new Act, imposition of fines and penalties would lead to better governance and act as a deterrence for market misconduct," Wijegunawardene said.
He said that this perception of lax enforcement has led to a lack of professionalism among some market participants.
Recently, Prime Minister Ranil Wickremesinghe too was highly critical of the capital market, saying that three to four investors were controlling 99 percent of the market through unethical conduct.
The most prevalent have been short-term profit gaining measures, such as pump and dump tactics.
Wijegunawardana also said there was a lack of a cohesive approach among local regulators, such as company registrars to share information.
Meanwhile, Wijegunawardana added that low levels of finance literacy among the existing and potential investors, as well as the weak technical capacity and expertise within the SEC, both of which could be improved easily, have been constraining operations in the past.
(CW)
---
---
Add comment

Comments will be edited (grammar, spelling and slang) and authorized at the discretion of Daily Mirror online. The website also has the right not to publish selected comments.

---